Man Utd: Ryan Giggs is unique freak, says Sir Alex Ferguson
Last updated on .From the section Football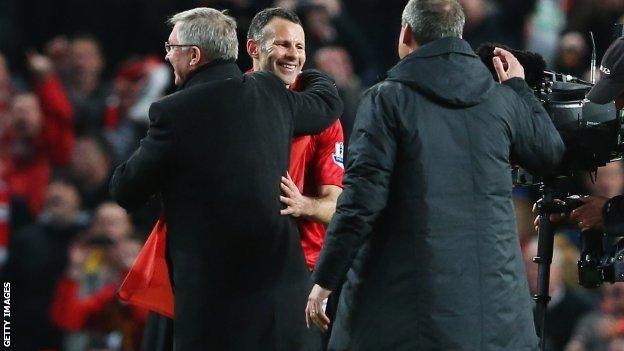 Ryan Giggs is a "unique freak" according to Manchester United manager Sir Alex Ferguson who believes the midfielder will play until he is 41.
"He's a unique freak," Ferguson said of veteran Giggs, who is in his 22nd season with the club.
"He'll play for another two years, trust me."
Giggs signed another one-year contract extension with the club in March which means he is set to become the third outfield player to play in the Premier League in their 40s, following Teddy Sheringham at West Ham and Gordon Strachan at Coventry.
The United number 11 made his 28th appearance for United this season against Villa and played the full 90 minutes.
Team-mate Michael Carrick, who is on the PFA shortlist for the Player of the Year title, said for Giggs to still be playing at the highest level was "sensational".
"I keep talking about him but what else is there left to say?" said Carrick, who partnered the 39-year-old in central midfield on Monday.
"It is sensational that he is still able to do that after all this time.
"It is not just physical, it is mental, having the drive and desire to do it every day.
"Ryan is out there training every day. The standard he has set is unbelievable.
"He is a legend. It is a throwaway comment too often. But he is the legend really. It is a pleasure to play with him and work with him every day."
Meanwhile, Uefa president Michel Platini praised Giggs's loyalty to United.
"That is beautiful. I like the people that fight for their colours and don't change clubs] every two months to make business," said the former France international.
"He's a guy who would never change clubs."
Giggs has now won 23 major titles, including four FA Cups, four League Cups and two Champions League crowns.
Giggs v clubs - titles won between 1992 and 2013

Premier League

European

FA Cup

League Cup

Total
Ryan Giggs

13

2

4

4

23

Chelsea

3

2

6

3

14

Arsenal

3

1

5

1

10

Liverpool

0

2

3

4

9

Man City

1

0

1

0

2