Nicky Law: Alfreton Town to go part-time next season
Last updated on .From the section Football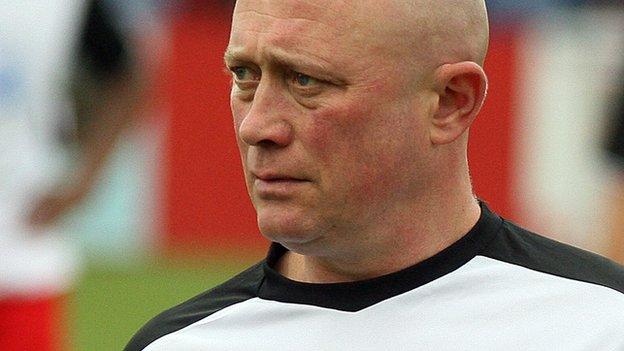 Alfreton Town manager Nicky Law has revealed the Reds will return to being a part-time club next season.
Law's side secured on Saturday and with it a third consecutive season in the top flight of non-league football.
He said: "It is tough for us. We are competing in a very, very competitive league. It is going to be a lot harder for us next year.
"We are going back to training part-time and the budget will be reduced."
Alfreton, who turned professional after their promotion two years ago, finished 10 points clear of the relegation zone this season.
"It is going to be hard to keep all the players, but there are some that are going to want to stay," said Law.
"We have to take it head on and deal with it. We realise it will be a fight to keep players as they are all going to have to take a reduction in pay.
"My job is to keep the players that we can and obviously introduce other players into the picture."
Law warned that the club faces a difficult future and any expectations needed to be kept in proportion.
"I think it is going to be tough for us again next year, it is always tough for us," he added.
"Some people's expectations just beggar belief. Some of the things I hear and I listen to absolutely astound me, but don't surprise me.
"At the end of the day we just have to get on with it."