Dundee United criticise agent as Johnny Russell seeks exit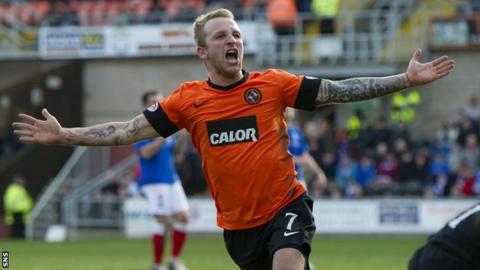 Dundee United have criticised Johnny Russell's agent while revealing the striker wants to leave Tannadice.
The 23-year-old forward has a year of his contract remaining and is refusing to sign an extension with the SPL club.
United confirmed they have rejected bids from Serie A side Catania but deny media reports of a third offer.
"It now appears that his agent is intent on forcing a transfer, at a fee which falls well below our valuation of the player," read a club statement.
"The same agent who wished the club to sign a commission-based mandate for him to sell Johnny Russell on our behalf has now told us that the player will not sign a contract extension and that he wishes to leave Dundee United.
"Johnny Russell is under contract until 31 May 2014.
"With regard to the so-called 'third offer', as this is now in the public domain we can confirm we received a second bid of 450,000 euros (in instalments) three weeks ago and this was rejected.
"We have the utmost respect for Johnny Russell and will not stand in the way of him furthering his career.
"However, we will not be told by agents how to run our football club. We have invested heavily in our youth set-up over the last few years and expect to receive a decent return on this investment when players are sold.
"If we are to continue to invest in our youth system and develop players to enable them to further their careers, we must ensure that this investment is sustainable."
Russell, who has scored 20 goals this season, is currently sidelined with a broken fibula.