Jonny Steele in the limelight in Major League Soccer
By Nial Foster
BBC Sport NI
Last updated on .From the section Football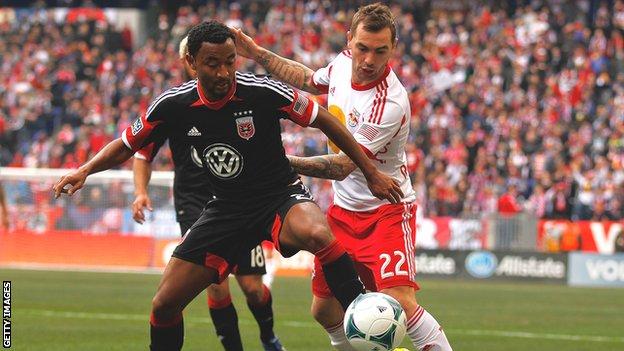 He has gone from Ballymena Showgrounds to New York's Red Bull Arena, plays alongside Tim Cahill and hangs out with legendary ex-Arsenal and Barcelona star Thierry Henry - meet Jonny Steele from Larne.
The 27-year-old is living the dream in the Big Apple and has been producing some eye-catching performances in Major League Soccer.
Steele has made such an impression, World Cup winner Henry believes the midfielder should be playing for Northern Ireland.
"I am not the manager and am not giving anyone any orders but I am just saying he has the quality to play for Northern Ireland, for sure," said the former France striker.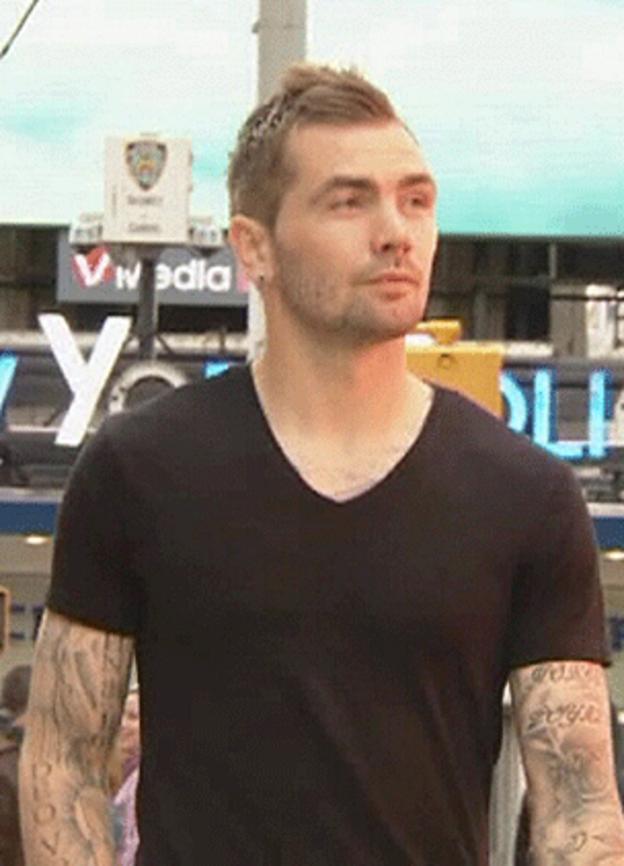 It was in 2004 that, as an ambitious teenager, Steele set off to the United States to try to make it as a professional footballer.
He is now playing alongside some of his childhood heroes in the New York team, but the journey has been an eventful one.
Steele has played for 11 teams in the land of opportunity, some of which were in an indoor soccer league.
"Every player wants to play at the highest level wherever they are," said Steele.
"If you are playing in League One, you want to play in the Championship or the Premiership and that is basically what I was doing over here, climbing the ladder and looking for the opportunity."
After a brief spell back home with Irish League side Ballymena United, Steele made his way back to the States to work his way through the lower leagues of American soccer.
'It was a long journey, then I got an opportunity with Real Salt Lake last year," he explained.
"I did well, played 34 games for them and then at the end of the year I thought I was going to get my contract renewed. But that didn't happen and it was heartbreaking, so I went back home."
Steele trained with Irish Premiership side Cliftonville in January this year and was considering a move to a League Two side in England.
But, only days before signing, he received a phone call from New York Red Bulls head coach Mike Petke.
'When we decided to bring him on board it wasn't with the intention that he would be a full-time starter," said Petke.
"But he won a starting position and overall he has surprised the coaching staff immensely."
Henry, who played more than 250 games for Arsenal, has already built up a special relationship with Steele.
"Jonny is a great guy, I hang out with him actually quite a lot," said Henry.
"He is a funny guy, a funny character and you always can count on him as gives 100% on the field."
Another admiring team-mate is Australia midfielder Cahill, who spent eight years at Everton.
"Jonny is playing with a good stable of players here, with Thierry, myself and Juninho and he's more than holding his own," said Cahill.
"My thinking on Jonny is that he is a complete footballer. He has been playing in America a long time but he wouldn't be here if he wasn't talented."
Former Northern Ireland Under-19 international Steele would love the opportunity to turn out for his home country's full international side.
He played in the 2005 Milk Cup youth tournament, scoring for Northern Ireland when they were beaten 4-2 in the final by the United States.
"Obviously, it is every kid's dream to represent where they come from, but you can only do what you're doing here and play for your club," he added.
"If the call comes, you answer it. I'm not going to look and say I should be or I shouldn't be. I have just got to keep working and hopefully it comes."
Until that international call arrives, Steele will continue to star in MLS where on Saturday he provided an assist for Henry and scored his first goal for New York as they cruised to a 4-1 win over New England Revolution.