Nigeria want Sidney Sam to play at the Confederations Cup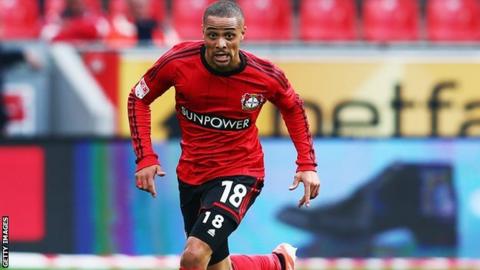 The Nigeria Football Federation wants former Germany under-21 midfielder Sidney Sam to play at the Confederations Cup in June.
Sam, 25, who plays for Bundesliga side Bayer Leverkusen, was born to a German mother and Nigerian father.
He has not played for Germany at full international level, making him eligible to play for the reigning African champions.
But he is waiting for Fifa to approve his nationality switch.
The NFF is now intensifying its efforts to have Sam available for the tournament in Brazil.
"We've really progressed in the quest for Sidney Sam, we are just waiting for two documents from the player to complete our presentation," NFF's spokesman Ademola Olajire told BBC Sport.
"After previous applications by Shola Ameobi and Victor Moses [former England youth internationals] two years ago, we remain confident this will be sorted without any hassle.
"We are looking at the possibility of having him in the team for the Confederations Cup in Brazil.
"It's very possible [to get his clearance] because the documents are all in place now and it will be a big boost for the player to start with a prestigious Fifa tournament."
Three months ago Fifa told BBC Sport that the NFF has not fulfilled all the conditions for the nationality switch to be approved.
But the NFF remains confident it is set to finalise the paperwork.
"The Super Eagles will be camping in Germany next month and, hopefully, Sam will meet officials and other players there ," added Olajire.
"It's 80% sorted, so we believe clearance can be obtained before the competition in Brazil.
"The coach has emphasised the importance of having Sidney Sam in his squad and we are optimistic of favourable and quick ruling."
According to Fifa regulations, a player wishing to represent a new country must submit a written request to the world governing body.