Chelsea investigate Yossi Benayoun's claims of fan abuse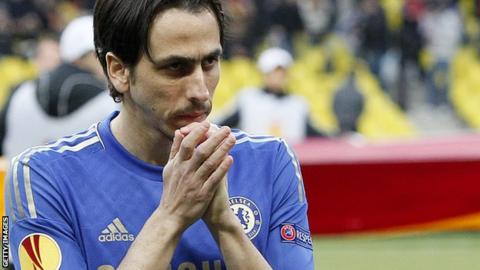 Chelsea have launched an investigation into whether abuse of Yossi Benayoun by their own fans has "crossed the line".
Benayoun, who has made 12 appearances this season after a loan spell at Arsenal in 2011-12, was booed during the 2-2 draw with Liverpool on Sunday.
The 32-year-old tweeted after the game that "sometimes people are crossing the limit", before adding: "I'm sure the club will sort it."
The Israeli's concern has prompted Chelsea to investigate any abuse.
After returning to Chelsea from a loan spell at West Ham this season, Benayoun is believed to have been targeted by a section of Chelsea's fans.
Possible motives for the abuse include kissing the Arsenal badge while on loan, and a perception that he is denying Frank Lampard and younger members of Chelsea's squad a place in the team.
Benayoun also tweeted that he had been booed since defending Fernando Torres in an interview following Chelsea's game against Sparta Prague.
Chelsea have a zero-tolerance policy on racist and discriminatory behaviour at Stamford Bridge and have, in the past, banned supporters who have breached it.
There is no evidence of racism at this stage, but Chelsea are examining previous games to establish the nature of the abuse.
Benayoun began his career in English football at West Ham in 2005, joining Liverpool for £5m in 2007.
The midfielder moved to Chelsea for a similar price three years later, and spent the 2011-2012 season on loan at Arsenal, scoring six goals in 26 matches for the Gunners.