Exeter City: James Cureton hopes to extend stay at St James Park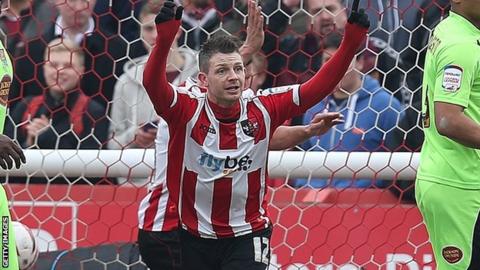 Exeter City top-scorer Jamie Cureton says he would like to stay at St James Park next season.
The 37-year-old, who has scored 21 goals for City this term, is out of contract after the club's final game of the season at Chesterfield.
"Yes, if we can sort something out," Cureton replied when asked if he wanted to stay with the Grecians.
"We haven't spoken and I know the budget is always tight here and I don't know what they're looking at."
Cureton's career spans almost 20 years since he made his debut for Norwich City as an 18-year-old, and he has gone on to score 247 goals in spells with 11 different clubs.
The former Reading and Bristol Rovers frontman joined Exeter for the first time in August 2010 and scored 20 goals that season before leaving for Leyton Orient.
He and
"I don't know what they're looking at," Cureton told BBC South West Sport. "They might be looking the other way now and bringing the youth through - we've got a lot of young players here.
"There are a lot of the older players who have already signed so it comes down to what the club needs.
"That said, we've had no conversations whatsoever so I'm sure we'll have one either this week or next week and say where we stand.
"It's down to the club - they might say they don't want me to sign and then the decision is made for me.
"I've got no other options at the moment, I haven't spoken to anyone, I just want to get the season done.
"After Saturday it's a case of sitting down and looking at options and seeing where I go."
Cureton has started 41 games for Exeter this term - with only four outfield players starting more times than him at Exeter this season.
And Cureton admits the number of games he has played has surprised him.
"To play, and nearly finish, 40 games is a great achievement at my age," he continued. "A lot of people think that when you get to this age you can't keep churning them out.
"But I'm not ready to start sitting on the bench too much and see my career out.
"I still feel that I can complete seasons and I've proved that and it'll be no different next year. I'll go into it with the attitude that I can play a full season and get a lot of goals out of it."