Sir Alex Ferguson is a magician, says England boss Roy Hodgson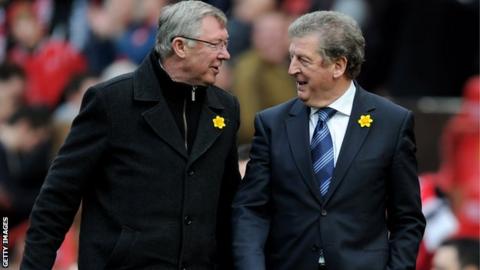 England manager Roy Hodgson says Sir Alex Ferguson is "a magician" and that Manchester United's strong English spine will benefit the national team.
United clinched their 20th league title, Ferguson's 13th in 21 seasons, after beating Aston Villa on Monday.
"If we're talking about magic in football, the only magicians I know are people like Sir Alex," said Hodgson.
Meanwhile, United legend Sir Bobby Charlton labelled Ferguson's side as one of the best in the club's history.
Three of United's starting line-up in Monday's title-clinching 3-0 win over Villa - Phil Jones, Michael Carrick and Wayne Rooney - are England internationals.
Danny Welbeck came off the substitutes' bench, which also included Tom Cleverley.
"I'm realistic in that I don't expect coaches to put teams together for England and I wouldn't dream of suggesting Alex should favour English players over others," said Hodgson.
"It's very nice to see a lot of very good English players are coming through thanks to their incredible academy system and they are going to be very important for me.
"That is of course a major bonus.
"It's a particular bonus when I go to watch matches because when I go to see United play, there's a good chance I'll see a number of English players, which unfortunately isn't always the case when I watch matches."
Asked about Ferguson's latest title success, secured with four games to spare, Hodgson added: "There's not so much you can say other than we'd all like to know how he does it.
"We'd all like to know what the secret is.
"Year after year he keeps producing incredible performances from his teams and his players, and keeps being able to rebuild sides from the ashes of the previous team."
Hodgson was speaking at the unveiling of a bust of first England manager Sir Walter Winterbottom at St George's Park.
Charlton was also present at the ceremony.
"Although it looks as though we haven't been playing attractive football, we've been winning with ease in lots of cases," United's record goalscorer told BBC Sport.
"It was impossible for anyone to follow us, we were right on song.
"This is maybe one of the best squads of players that we have had.
"The players are from all sorts of different countries but, somehow or other, Alex seems to be able to gel them together for the important matches."
Ferguson took charge of United in 1986 and turned 71 last December.
England World Cup winner Charlton has a close relationship with the long-serving Scot, but said he did not know how long Ferguson intended to carry on for.
"Everybody asks me when do I think he is going to retire? The answer is I don't know," he added.
"He'll maybe tell me [one day]. But at the end of the day he is such a motivator.
"He is in control totally with his squad and I'm happy just to say 'on you go Alex, just do it the way you have always done it'."
Charlton says Ferguson will already have started planning for next season's title defence.
"It's possible [United could do even better next season]," he said.
"Alex will already be planning for next year. As soon as we won that match on Monday his thoughts will have turned to next season.
"We have got quite a busy tour in Asia and Australia in the summer. When the team returns from that it will be the start of another campaign to win the league again. And who is to stop him?"