Dunfermline: Pars United sets £500,000 target for club buy-out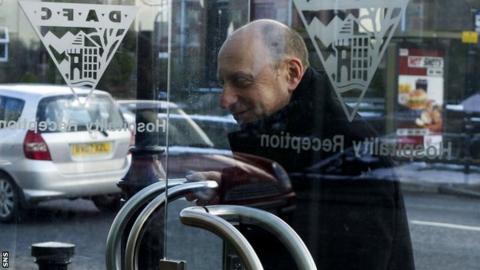 The Pars United community group has set itself a £500,000 target to buy administration-hit First Division side Dunfermline Athletic this summer.
The group has been working alongside administrator Bryan Jackson to raise funds to keep the club alive.
But it will next turn its attention to a community buy-out of the Pars.
"The anticipated target that the worldwide Pars family requires to raise before the end of July is in the region of £500,000," it said in a statement.
However, it recognises that bringing East End Park back into ownership by the club will be a longer-term project.
Pars United has brought together board members, players, staff, supporters, sponsors and debtors in an effort to prevent the club going into liquidation after facing a winding-up order last month over a £132,000 tax bill.
In a statement designed to keep Dunfermline fans informed about its progress, Pars United said that its campaign would be in three stages - Save The Pars, Buy The Pars and Keep The Pars.
The group says that, as administrator BDO had stated that Dunfermline's funds had "run dry", all present fund-raising is going towards helping "three highly experienced financial professionals within Pars United" who are "working closely with the club's administrator to determine the additional 'working capital' that DAFC requires so it can trade until the end of July".
"All cash donations at this time are going directly to DAFC and its employees until such time as the cash requirements to ensure survival until end of July have not only been confirmed but then reached," continued the statement.
"Once that figure has been raised, Pars United will then wholly focus its fund-raising activities towards the next phase of their strategy, which is to 'Buy The Pars' from the administrator at the end of July."
A company voluntary arrangement needs to be agreed with creditors and administrator Jackson views it as vital for this to completed before August, especially as it would prevent the club incurring more football penalties.
The Pars have been docked 15 points this season for going into administration.
"Fuller details will be released shortly," said Pars United. "But, taking into account the timescales, the Pars United strategy group has set a target of £400,000 for Pars patrons and £100,000 for Pars supporters."
Whoever buys Dunfermline is likely to inherit some football debt to players and other clubs.
So Pars United stresses that, even if it is successful in buying the club, its appeal for more funds will continue.
"It will be necessary for ongoing fund-raising activities to be organised to continue to assist the club moving forward," it said.
Pars United has told Jackson that its strategy involves the club again owning their stadium, presently held separately by Pars owner Gavin Masterton under the East End Park Limited banner.
"This is a highly complicated and delicate matter at present and the issues of ownership and rental will take time to resolve, but it is important to reassure supporters that work is currently being carried out to ensure a positive outcome for Dunfermline Athletic Football Club," said the group.
Timescales dictate that a switch in ownership is almost impossible to complete before the start of next season, when the Pars are more likely to be playing under some form of lease arrangement.