Rangers: Charles Green to sell shares to James Easdale

By Chris McLaughlin
Senior Football Reporter, BBC Scotland
Last updated on .From the section Football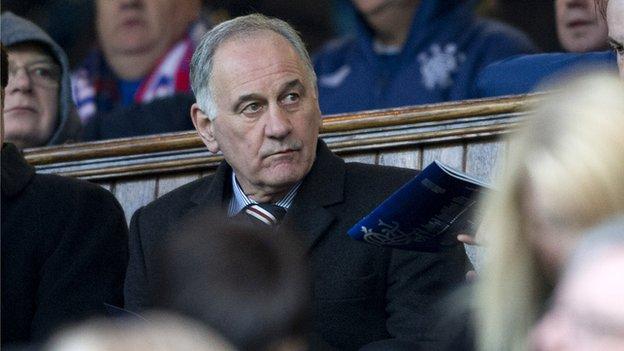 Former chief executive Charles Green has agreed to sell his shares in Rangers to Greenock bus tycoon James Easdale, BBC Scotland understands.
Easdale and his brother, Sandy, already own around 6% of Rangers, but they want more - and a presence on the board.
However, Sandy Easdale was jailed for VAT fraud in 1997, a matter thought to concern current Ibrox board members.
The board met on Tuesday to discuss the possibility of the Easdales increasing their stake.
It is possible the family will look to buy even more shares in Rangers in an attempt to take some form of overall control of the Division Three champions.
The Easdale family owns McGill's Buses, a Greenock-based company that has become the largest independent bus operator in Scotland.
James Easdale is the chairman of the company that now operates more than 350 buses and around 55 routes and employs about 700 members of staff.
Green cannot sell his shares immediately as he is locked in by Stock Market rules until December.
But the Englishman has informed Rangers' board that he intends selling to Easdale, who has agreed to buy.
Green, who is Rangers' biggest single shareholder with 8% of the stock, resigned last week following allegations that he colluded with former owner Craig Whyte to buy the Ibrox club's assets.
Whyte, who the Scottish FA ruled was not a fit and proper person to own a football club, had claimed that Green was his frontman to buy the assets of the club the Scottish businessman took into administration last year.
Green denied those accusations, but it prompted Rangers' board to announce it would be launching its own independent investigation.
However, , with Rangers saying he wished to avoid the publicity around his role impacting negatively on the club.
Nottinghamshire-based businessman , perhaps only on an interim basis, once Green's departure from the role has been formalised.