Johnny Russell denies wanting Dundee United exit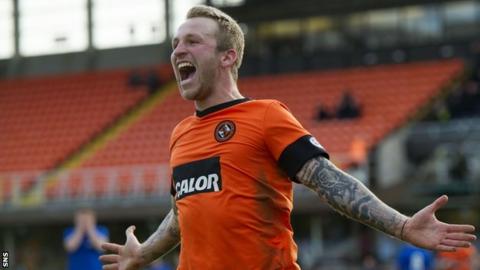 Johnny Russell has insisted that he has not asked to leave Dundee United.
they say had claimed the 23-year-old striker would not extend his contract, which ends in summer 2014.
But Russell said on Twitter: "I've asked to leave United? Well, that's news to me! Would never do that to a club that has given me so much.
"Good to know what some people think of me going by tweets I have received today."
for Russell, but United suggested that the latest, improved offer they had rejected from the Italian Serie A outfit was for £384,000.
Former United manager Peter Houston has warned Russell against ending up like former team-mates David Goodwillie and Scott Allan.
Goodwillie's move to Blackburn Rovers turned sour, while Allan has failed to break into West Brom's first team.
"David Goodwillie got his good move and extra money, but where has his career went?" said Houston.
Having signed for Blackburn when they were a Premier League side, Goodwillie has played only eight times this season as they struggle to avoid relegation from the Championship.
Allan, now 21, has yet to make a first-team appearance for West Brom since his £300,000 move in January 2012 and instead has been farmed out to Portsmouth and League One rivals MK Dons.
"He played four, five or six games for Dundee United's first team and I saw him as a future talent for Dundee United," Houston told BBC Scotland.
"Now, where is he now? Again, he's moved on, his agent has moved him to what he thinks is the right club, West Brom, but he's not playing first-team football."
Indeed, on Twitter, midfielder Allan himself re-tweeted a message sent to Russell saying: "Surely you don't want to end up like Scott Allan - bags of potential now playing on front of three fans for WBA reserves."
United criticised the agent involved with Russell for attempting to force a cut-price transfer.
Houston agreed with his former club that "Johnny Russell's worth a lot more than that", especially considering that former strike partner Goodwillie, who is a year older at 24, was sold for nearly £2.8m.
"If he wants to leave the club, that's his decision," said Houston of the player currently recovering from a broken leg. "But David Goodwillie put his name to another year's contract.
"Within a couple of months of David Goodwillie signing that contract, Blackburn were willing to pay what Dundee United felt he was worth.
"Dundee United got a good deal and David Goodwillie got a very good deal and everybody was happy.
"Dundee United have spent years on Johnny Russell and, credit to him, he has developed.
"He is a fantastic young talent, but I think Dundee United should get the amount of money he is worth and certainly, in my opinion, he is worth a lot more than 450,000 euros."
United rejected a bid from Sheffield United in January, while a £1.25m offer from Huddersfield Town for Russell and winger Gary Mackay-Steven was described as "a joke" by Houston in September.
"If you look at the English Championship, the English Premiership, there's a lot more than £2m changing hands for players who, in my opinion, are not as good or talented as Johnny Russell," said the former United boss.