Gerard Pique says Barcelona recovery 'almost impossible'
Last updated on .From the section Football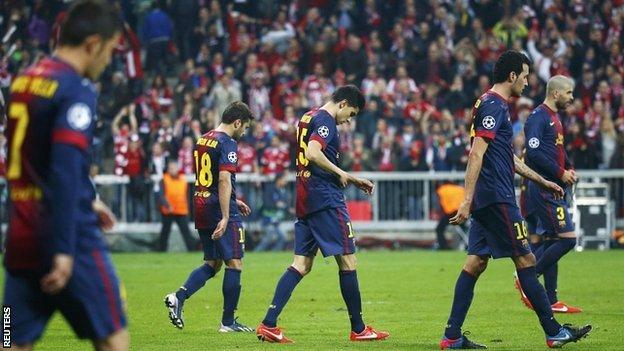 Defender Gerard Pique said it is "almost impossible" for Barcelona to reach the Champions League final after being thrashed 4-0 by Bayern Munich.
Thomas Mueller scored twice as Bayern dominated the semi-final first leg, with Lionel Messi clearly injured.
"They've been faster, stronger and played the better football," said Pique. "It's almost impossible for us."
"Miracles are always hard to make real, 4-0 is a huge deficit to make up," added assistant coach Jordi Roura.
"I don't know if anyone has come back from a score like that in the history of the Champions League, but we'll do what we can.
"This is a big defeat which hurts us a lot."
The crushing loss was Barca's worst European defeat since they lost to Dynamo Kiev by the same scoreline in 1997.
No team has recovered from a four-goal defeat in European Cup or Champions League history, and it has only happened three times in other European club competitions.
The Catalan side, who have already come back from a 2-0 defeat by AC Milan this season - winning the home leg 4-0 - could go into next week's second leg having wrapped up the Spanish league title as if they beat Athletic Bilbao and their closest challengers Real Madrid lose, they will clinch their fourth La Liga in five years.
And they will hope that an out-of-sorts Messi is fit enough to inspire the team in the same way that he did against Paris St-Germain in the quarter-finals.
Messi insisted: "I felt good, I was well enough to play. We have to lift ourselves for the second leg and the Liga. We'll bounce back."
Pique said: "[Bayern] have been better than us, we need to congratulate them and show our best in the return leg while thinking about finishing the league as soon as possible. We are Barca, we must go out at the Nou Camp to win the game for our fans."
Roura added: "Bayern played a great game, while we were lacking that freshness to compete with them and that is something that we have to look at.
"We didn't see situations where we could have changed things after the break. We know that the situation is difficult but as Barcelona we have to compete in the second leg and try to win. We will give it our all."