Sir Alex Ferguson 'could defy God', says Gordon Strachan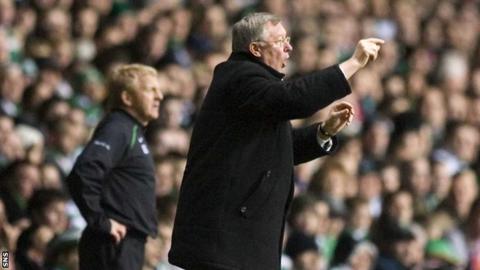 Scotland manager Gordon Strachan says Sir Alex Ferguson is "the best psychologist in the world" and does not see an end in sight to the veteran Manchester United boss's career.
United clinched their 20th league title, Ferguson's 13th in 21 seasons, after beating Aston Villa on Monday.
"How long will he go on for? Forever," said Strachan about his former manager at Aberdeen, Scotland and Old Trafford.
"He'll just get angry with God and defy him as well."
Strachan was speaking as .
But, for the Scotland manager, few will ever come close to matching the heights reached by his fellow Scotsman, the 71-year-old Ferguson.
"I heard Sir Alex describe Ryan Giggs as a freak - he's in the same boat," said Strachan referring to the veteran Manchester United winger.
"But he's an even bigger freak because he is so good at his job.
"People keep telling me about sports psychologists and all the rest. That man is the best sports psychologist in the world.
"You only get these people once in a generation - he's the one."
England manager Roy Hodgson also hailed Ferguson.
"If we're talking about magic in football, the only magicians I know are people like Sir Alex," he said.
United legend Sir Bobby Charlton labelled Ferguson's side as one of the best in the club's history.
"Although it looks as though we haven't been playing attractive football, we've been winning with ease in lots of cases," United's record goalscorer told BBC Sport.
"It was impossible for anyone to follow us, we were right on song.
"This is maybe one of the best squads of players that we have had."
England World Cup winner Charlton has a close relationship with the long-serving Scot but said he did not know how long Ferguson intended to carry on for.
"Everybody asks me when do I think he is going to retire? The answer is I don't know," he added.
"He'll maybe tell me. But, at the end of the day, he is such a motivator.
"He is in control totally with his squad and I'm happy just to say 'on you go Alex, just do it the way you have always done it'.
"Alex will already be planning for next year. As soon as we won that match on Monday, his thoughts will have turned to next season.
"We have got quite a busy tour in Asia and Australia in the summer. When the team returns from that it will be the start of another campaign to win the league again. And who is to stop him?"