Matt Le Tissier makes Guernsey FC debut in defeat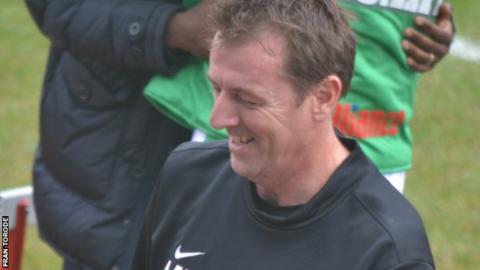 Former England forward Matt Le Tissier made his Guernsey FC debut in their 4-2 defeat by Colliers Wood United.
The 44-year-old came on for the last 10 minutes as Guernsey played the 11th of 16 games scheduled for April as they battle through
"In all honesty, while it might be exciting for the fans, it's not a good sign for us," Guernsey assistant boss Colin Fallaize told BBC Guernsey.
"It means we were struggling to get a squad together."
Le Tissier is an honorary president of the club and made 541 appearances for Southampton, winning eight caps for England.
He was registered by Guernsey earlier this season, despite not having played a professional game since 2002.
Fallaize added: "Matt's as good as gold and travelled down to help us out with squad numbers, but, as Matt would also say himself, it's not a good sign that he's there as it means we're in trouble numbers-wise."
Guernsey face three games in as many days between Friday 26 and Sunday 28 April as they try and get through a backlog of games caused by the combination of the club's and wet weather which meant their
Matt Loaring hit the crossbar early on for Guernsey before Alex Le Prevost gave them a 19th-minute lead.
Colliers Wood equalised after 37 minutes before Loaring put the Green Lions back in front 60 seconds later.
But the home side levelled two minutes before half-time and went ahead 11 minutes after the break.
They completed their win with a 72nd-minute goal which means second-placed Guernsey remain 18 points off Combined Counties Premier Division leaders Egham Town with five games in hand.
"At the moment, we're a little bit below par and mentally and physically weary and other teams are up for it," Fallaize said.
"It was the first time in a long time that we've lost back-to-back games and we've got to find a way to pull ourselves out of it."
But Fallaize says something must be done to prevent fixture pile-ups.
Guernsey will play 20 league games between the start of April and 6 May, including four in a row over the Bank Holiday weekend.
"It's ridiculous, but that's the nature of the beast. That's the way it's fallen on our plate and we have to deal with it," he added.
"I think it's a ridiculous situation and any organisation that runs football should have a look at it."