Paul Tisdale: No regrets over Exeter City's season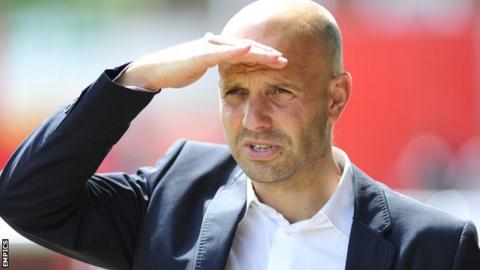 Exeter City manager Paul Tisdale say he has "no regrets" as he reflects on their first season back in League Two.
The Grecians missed out on the play-off places after losing five of their last six matches having been around the top six for much of the season.
"I opted for a sensible, safe team, so our performances were, I suppose, symptomatic of that type of personality," he told BBC South West.
"I'm proud of what we've done this year in terms of settling from relegation."
He added: "I don't regret making those choices, I think it was a sensible thing to do in terms of coming down and making sure we didn't spiral through misery and pessimism and it became a bad season."
The club's current run of results mirrors their other poor run when they lost five and drew one of six games in October and November.
City's ended any hopes of catching Bradford for the final place in the League Two play-offs.
"I'm pleased that we did what we did - I have to say, it's terribly disappointing to finish as we did.
"We had a magnificent position with the opportunity of automatic promotion and no matter what we think of the season it's still very disappointing. My mind is still influenced by that disappointment.
"In terms of the overall performance - certainly not bad at all.
"I'm pleased with what we've done in terms of our performances, it's just the disappointment of recently overrides that for the time being."
Tisdale has already said that he cost his side the chance of going straight back into League One, but insists he is now focusing on growing another cycle of players.
"We had a five-year cycle which ended with us finishing eighth in League One.
"We had a year of trying to hold onto our position against the tide, and then we've started again.
"For me, the most important thing this year was to be sensible and safe and build another group of players and build some culture within the major personalities in the team and gradually build a new personality.
"But with actions and performances come reaction and decisions and we're going to evolve.
"I can't quite tell you how we're going to evolve, but we will evolve and the wheels need to turn forward again.
"I don't mean by position in the league, but with young, dynamic players coming through, generating sales, bringing revenue into the playing squad other than just the basic cash flow finances that we rely on.
"I can't plan exactly that cycle, but we're into it and I need to find ways over the next two or three years to get the wheels turning forward and generating money again."