Akono will not apply to be permanent Cameroon coach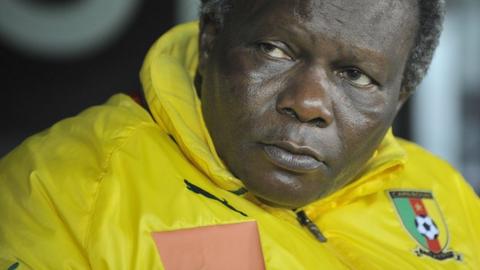 Cameroon interim coach Jean-Paul Akono says he will not apply for the position on a permanent basis after the job was advertised without his knowledge.
Cameroon's Football Federation says over 100 coaches have applied for the role before Thursday's deadline.
But Akono told BBC Sport: "If I still have my head in the right place, why would I apply?"
On Wednesday he revealed he had been in negotiations over a contract before he heard a new man was being sought.
Akono was installed as interim coach last year as the replacement for Denis Lavagne but has been working without a contract in place and Cameroon's sports ministry and football federation announced on Tuesday it had begun the process to appoint a new coach.
"I was shocked and embarrassed when I heard over state radio that Cameroon is looking for a new coach," said Akono.
"I'm confused because negotiations were already ongoing for me to sign a contract with the government.
"In fact, I was called up the ministry on Friday for discussions with the minister.
"During my discussion with sports minister Adoum Garoua, I proposed that I should be awarded a contract up to July next year, with a monthly salary of 15 million CFA francs ($29,800), which is far below what the country pays to foreigners, mostly Europeans.
"My assistant said his own monthly wage should be 7 million CFA francs," Akono added.
"The minister asked us to reconsider our demanded monthly wages and get back to him within a short time, although no date was fixed.
"While we were still thinking about it, we were shocked to hear state radio announcing yesterday that he has instead requested the football federation to launch an urgent international appeal in the search for a new coach."
Cameroon is one of many African countries where the government pays the salary of the national team coach, rendering the cash-strapped football federation virtually powerless in the decision-making process.
The proposed change comes four weeks after Cameroon beat Togo 2-1 in a World Cup qualifier with Akono in charge and two months before their next two group games.
Cameroon have won the African Nations Cup four times and became the first African team to reach the World Cup quarter-finals in Italy in 1990 but they have struggled in recent years.