Manchester United: Flexibility secured title, says Robbie Savage
Last updated on .From the section Football315

In his regular BBC Sport column on football tactics, Robbie Savage takes a closer look at the way Manchester United won their 20th league title.
Summer signing Robin van Persie and his goals clearly played a huge part in United's success but, for me, their triumph was down to their whole squad rather than their manager Sir Alex Ferguson relying on an individual or the same star players every single week.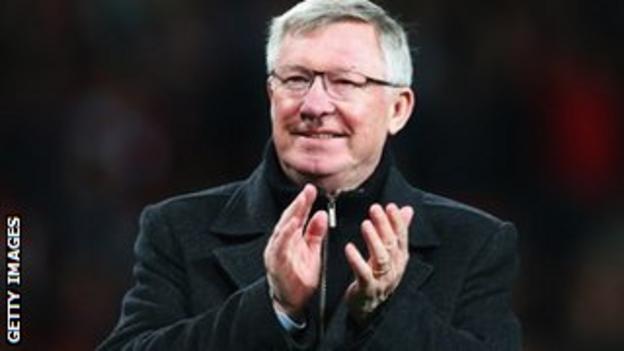 The strength in depth that Ferguson has, and the adaptability of his players, allows him to change his formation and approach depending on the opposition.
His main title rivals Manchester City do not have that luxury or enough variety in their play, as they found out to their cost.
City got the better of United when they met at the beginning of April but too many times against the lesser sides in the Premier League, City boss Roberto Mancini did not have a Plan B. That was not a problem for Ferguson.
Strong squad equals flexible formations
Ferguson's first Premier League titles in the 1990s were built around a 4-4-2 formation. Things have moved on in modern football since then but, crucially, so has he. In the past few years he has played a variety of formations, and this season was no different.
During the course of the campaign he showed his adaptability, and also his bravery with his tactics.
Seeing United's wingers bombing forward in some ways remains United's trademark because Ferguson has retained such an attacking style of play.
But he has also used a 4-4-2 shape to stop other teams, such as in January's win over Liverpool at Old Trafford when he pushed his wide men Shinji Kagawa and Ashley Young high up the pitch to press Liverpool and stop them playing their way out of defence.
Players like Kagawa and Danny Welbeck are good examples of the kind of versatile players Ferguson can call upon when he wants to change the attacking shape of his side.
Kagawa is comfortable operating in the hole behind the main striker or on the left in a 4-2-3-1 or 4-3-3 shape. It's the same with Welbeck, who can be that out-and-out striker or play out on the flanks. Van Persie and Wayne Rooney, too, interchange positions.
Diamonds are not forever

Perhaps the best example of Ferguson's flexibility has been when he has played a 4-4-2 formation and not used any real width at all.
Rooney often drops very deep but earlier in the season he played at the tip of a midfield diamond and behind two strikers, most notably in a 3-0 win over Newcastle in October when Welbeck and Van Persie led the attack.
Tom Cleverley and Kagawa started just behind Rooney, with Michael Carrick at the base of the diamond.
That tight shape allowed United to dominate possession at the start of the game and score two early goals, but they did not keep playing that way when Newcastle countered by putting an extra man in their midfield.
Ferguson responded by bringing on a winger, Antonio Valencia, to play out wide in the second half to counter Newcastle's threat down that flank.
So he can alter things during games but he is also willing and able to set up his side to stop other teams from the start, as well as to try to attack them.
One example came when he used Phil Jones to man-mark Marouane Fellaini when Everton came to Old Trafford.
But his biggest call came when he left one of his best players out for a game that has defined United's season - the second leg of their Champions League quarter-final against Real Madrid.
He dropped Rooney for players who would contribute more defensively and lined United up in a 4-2-3-1 that was squeezing the life out of Real until Nani was sent off.
That red card demonstrates the fine line between success and failure. A lot of people are saying this is not the best United team, but the way they won the title suggests they deserve more credit.
Yes, you can point to their early exit in Europe but I think they would have won that Real tie with 11 men because they were in complete control. They were unlucky and progress then would have put their whole season in a different light.
The stats show that, in the Premier League, United have had marginally less possession than last season, played fewer crosses per game, and had fewer shots. But their goals to shots ratio is up, and they have allowed their opponents fewer shots.
The most important statistic, however, is their win ratio of 79.4% - the best of any of their 20 top-flight triumphs, More than ever before, they have done whatever it has taken to win games.
| Manchester United | 2011/12 (PL rank) | 2012/13 (PL rank) |
| --- | --- | --- |
| Average shots per match | 17 (5th) | 15 (7th) |
| Av shots on target per match | 6.39 (2nd) | 5.74 (4th) |
| Goals/shots ratio | 18.9% (1st) | 19.8% (1st) |
| Shooting accuracy | 51.7% (1st) | 49.5% (2nd) |
| Av'ge possession per match | 57.9% (4th) | 56.6% (4th) |
| Average crosses per match | 21.7 (2nd =) | 20.4 (4th) |
| Av shots allowed per match | 13.3 (6th) | 12.4 (7th) |
| Av shots on target per match | 4.2 (5th) | 3.9 (4th =) |
Less is more for Van Persie
The reason United can change things around when they have to is because of the quality of their squad, particularly in the attacking positions.
After losing the title on goal difference to City with the last kick of the 2011-12 season, you can see why Ferguson invested in creativity and firepower last summer.
I think they won the title when he did that.
Their capture of Van Persie was the most crucial one and, although he has continued to score heavily since leaving Arsenal, he has adapted his game since moving to Old Trafford.
When Van Persie played for Arsenal, I remember that, towards the end of his time there, he would go and get the ball himself, run with it and try to finish too.
What has changed is that he has realised he is now playing with better players who will create more chances for him, and that he does not need to make chances for them too.
He does not try to do everything on his own any more, and concentrates on scoring goals, rather than trying to make them as well.
The Netherlands star has seen less of the ball and created fewer chances for others this season, but his shooting accuracy and chance conversion has remained at the same rate.
Looking forward to more?
The margin by which United won the title was frightening, and I think they are a team which is getting better and better.
David De Gea was seen as a weak link in goal but he has got stronger physically and his attributes are now better suited to the Premier League.
The likes of Phil Jones and Rafael have had an extra year of experience playing and working on the training pitch and have come on leaps and bounds.
Michael Carrick has also emerged as being hugely important to making United tick. It's the way he controls the pace of games, and he does it better than anybody.
Unless City make fundamental improvements, not to their first-choice team but to their overall squad, then next year I think it could be United's title again.