Portsmouth chief executive sounds Jed Wallace warning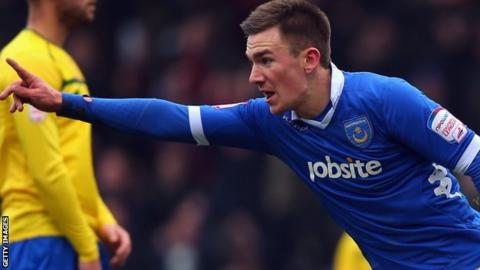 New Portsmouth chief executive Mark Catlin says promising young midfielder Jed Wallace will not be allowed to leave the club on the cheap.
With the club now out of administration and owned by the Pompey Supporters' Trust, Catlin says they do not need to sell players to balance the books.
"I'd like to make the point that we are not in strife," Catlin told BBC Sport.
"So if anyone wants to come in and make a bid for a player don't think you are going to get him cheap."
Catlin, who was previously a commercial director at Bury, says they hope to keep hold of players such as Wallace as they prepare for life in League Two next season.
Wallace, 19, is regarded as one of the brightest prospects at the club and has attracted much interest this season and signed a one-year contract extension on Thursday.
"Every player has a price," admits Catlin. "It does not matter if you are at Manchester United, Portsmouth or a non-league club, but we don't have any need or desire to sell our best players. We want to build a team for the future and players like Jed Wallace are central to that."
The club came out of administration on Friday after 14 months and Catlin concedes that he has a huge task on his hands in his new role.
But he believes the foundations are in place to make the club a success again after suffering three relegations in four seasons.
"There is so much work to do but it is enjoyable and I wouldn't swap it for the world," he said. "It's not about the money, I just love being here.
"There is a lot of work to do in regards to sponsorship and my biggest challenge is bringing it all together.
"So that means kit deals, sponsorship deals, season tickets, building the team and getting the various departments to function together. But the most important thing at a football club is morale, team spirit and people have to come to work with a smile on their face. So that means the players, manager and staff."
Meanwhile, as things start to settle on and off the pitch, the club's chairman Iain McInnes says there are already plans in place to redevelop Fratton Park and the land around it.
The club's property partner Stuart Robinson has bought the land surrounding Fratton Park and it will finally enable the club's stadium to be redeveloped.
"Stuart has several different plans about what the outside of the stadium is going to look like," McInnes told BBC South Today.
"He is going to deposit a significant amount of money which will enable us to refurbish the inside of the football club.
"I'd like to think we can keep the character of the old stadium but provide it with a lot more modern facilities. This is the largest 20,000-seater stadium in the country and if you reshaped the seats you could add another two or three thousand."
PST chairman Ashley Brown says fans are continuing to pledge their support to the club, who are receiving around 50 new applications a day since coming out of administration.
So far they have raised £1.5m in community pledges with another £400,000 in the process of being converted, while the 12 club presidents have put in a further £1.6m.
As well as appointing Catlin as the club's new chief executive Pompey also named Guy Whittingham as their new manager and announced the make-up of the new board on Wednesday.
McInnes, Brown, Mark Trapani, Mick Williams, Mike Dyer, Christopher Moth and John Kirk will be the club's seven directors.