NI manager Michael O'Neill aware of Jonny Steele's progress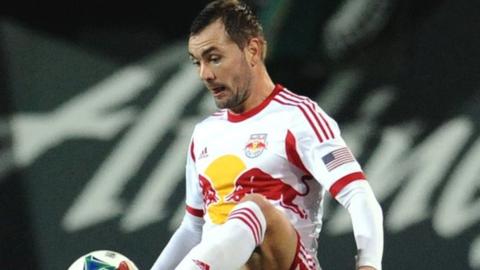 Northern Ireland boss Michael O'Neill says New York Red Bulls player Jonny Steele could earn an international call-up by maintaining his progress.
The 27-year-old midfielder from Larne, who is playing alongside Thierry Henry and Tim Cahill, has said he would love to be selected by Northern Ireland.
O'Neill said former Ballymena player Steele was very much on his radar.
"If he continues to make an impact, I will certainly be keen to see how he is progressing," said O'Neill.
"We will see how things look when we come around to naming our next squad.
"Jonny is now making an impact in Major League Soccer and we will continue to monitor his progress.
"It is early in his MLS career. I suppose he has made more of an impact at New York than he expected or certainly than they expected."
Turning to the postponed World Cup qualifier against Russia, O'Neill said he was happy the game had been rearranged for 14 August, rather than a date in June.
"A game in June would have been difficult for us as players would have been a month out of season," said the NI manager.
"It would have suited Russia a lot better.
"In terms of the options, it was definitely my preferred date."