Where would your club be without the top scorer?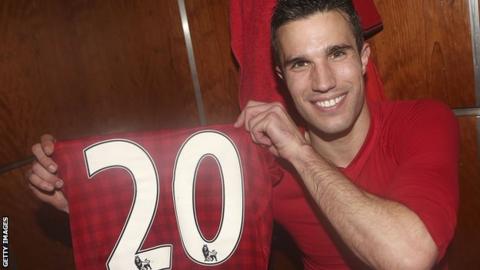 Manchester City manager Roberto Mancini said the date United really won the Premier League title was 17 August 2012 - the day they signed Robin van Persie from Arsenal.
"We wanted Van Persie because we knew he could be an important player," Mancini admitted. "He has changed their situation, he is the difference between us."
United clinched the title with a 3-0 win against Aston Villa on 22 April, with Van Persie scoring a hat-trick. But how important has Van Persie really been to United's season? And what impact have other clubs' leading scorers had on their success, or lack of it?
BBC Radio 4's More or Less programme has created an alternative Premier League table, showing how many points clubs would have earned without the goals of their leading marksmen.
Table one shows that Manchester United would still be top of the league without Van Persie's goals, but by a much smaller margin than they currently enjoy. The Dutchman has scored 30% (24) of Manchester United's goals and those goals have earned his team 23% (19) of their overall points tally - more than any other player.
Second place in the table goes to Arsenal, who move above Manchester City because they are less reliant on their top goal scorer. Santi Cazorla has scored 12 goals this season but there were only two matches where his goals made a difference to the result.
Manchester City and Chelsea are one point behind Arsenal in joint third position.
Tottenham would be a place and 15 points worse off without the services of Gareth Bale, completely ruling them out of the running for a Champions League spot.
At the opposite end of the table, Fulham would be 15th - a drop of four places and 10 points - without Dimitar Berbatov. And Aston Villa would be 13 points off and virtually condemned to relegation without the goals of their top scorer, Christian Benteke.
Table two also answers questions about so called "one-man" teams, a label that has been given to Tottenham this season.
Bale's 18 goals have accounted for 25% of their total points, Spurs have not won a game in which he has not scored since 1 January, and in the alternative table they would be 11 points off a Champions League spot without his goals.
This is backed up by WhoScored.com - the world's largest online football statistics database - who use more than 300 different measurements to create their ratings. Bale currently sits top of their player rankings.
But WhoScored.com editor Alistair Tweedale thinks another player is arguably more important to Spurs' cause.
"Tottenham have won 67% of their games with Moussa Dembele playing (24 starts and two as a substitute), compared to 29% without him (eight games. Those are both respectively bigger and smaller values than with and without Bale. So there's an argument that Dembele is as important if not more important than Bale to Tottenham."
Liverpool's Luis Suarez has been in the news for all the wrong reasons in the last week and a Football Association ban means he won't be adding to his 23 league goals this campaign. He is widely considered to be indispensable to his club.
But the stats paint a slightly different picture. Despite scoring 38% of Liverpool's goals, they have only contributed 18% of Liverpool's total points. In the alternative table, Liverpool would be in exactly the same position in the league as they are now without Suarez's goals - seventh.
It is equally surprising that Swansea's Michu has not been as important as his goals tally might suggest. The £2m bargain signing from Rayo Vallecano has chalked up an impressive 17 league goals, accounting for 40% of Swansea's goals, but they have only been directly responsible for 17% of Swansea's points.
One man is clearly the Premier League's statistically most impressive performer in the alternative table. Step forward Aston Villa's Benteke.
The Belgian striker has scored 15 goals (42% of Villa's total), leading to 13 points (38% of their total). Without his input, Villa would be five points away from 17th spot and Premier League safety.
Tweedale agrees: "He'd be the most valuable player for me, just because of the huge financial implications of getting relegated. Villa will probably be in the Premier League next season in no small part due to Benteke. Without him I don't think they would be."
Of course goals are statistically important but they do not always tell the whole story. One of the players who is not the leading scorer for his club is Liverpool's much-maligned £35m striker Andy Carroll, currently on loan at West Ham. Carroll has scored only six goals for the Hammers, yet WhoScored.com surprisingly rate him as the seventh best player in the Premier League.
"He actually wins almost as many headers - or as we call them aerial duels - per game as the whole Wigan side in total," says Tweedale. "He wins 9.6 per game and Wigan win 10.4 per game, which is incredible. You can argue Arouna Kone is a better goalscorer, but Carroll is just as important in other ways."
Everton left-back Leighton Baines has scored five goals this season but in percentage terms he leads all Premier League players in the number of touches of the ball. He takes 12.5% of all Everton's touches. At the other end of the spectrum, Manchester United's Mexican striker Javier Hernandez takes only 1.4% of all United's touches, but that was still enough to net him eight league goals.
METHODOLOGY
To understand the methodology, look at Manchester United's 3-0 win against Aston Villa. If you took away Van Persie's three goals, the game would have ended as a 0-0 draw and United would have earned one point rather than three. This means Van Persie's net contribution was two points.
In a fixture where each team's leading forward scored one goal, those goals are cancelled out.
If we take the game when Liverpool beat Norwich 5-2, Luis Suarez scored a hat-trick. So if you take his goals out, the game looks like a draw BUT Norwich's leading scorer Grant Holt also scored one goal for his side. This means the net score would have been 2-1 to Liverpool and Suarez's heroics resulted in a net contribution of zero points.
In the case of a team having a joint leading scorer (QPR and Norwich), we used the player whose goals earned their side the most points (Loic Remy and Grant Holt).
It should also be pointed out that the table only subtracts points from their current total, because the focus was on looking at the impact that top scorers are having on their teams. There is no redistribution of points.
The stats are up to and including 22 April.