A year of extremes for Ndlovu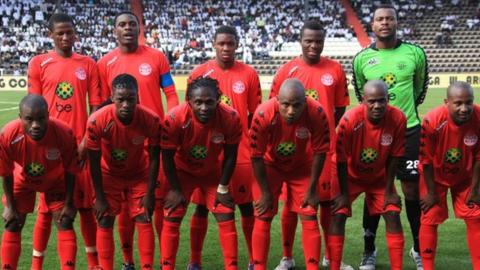 Zimbabwean legend Madinda Ndlovu knows better than most how football can deliver highs and lows.
Last December his brother Adam died in a road traffic accident when he was travelling for a match pitting Highlanders legends against a Victoria Falls team.
Ndlovu revealed he still tries to communicate with Adam in spirit and perhaps it was in part his sense that his brother is still there for him that has helped Ndlovu steer Mochudi Centre Chiefs to the Botswana league title in his first year in charge.
"Adam's death is a great loss, I think he would have made a very good coach," Ndlovu told BBC Sport.
"I talk to him every day, I ask for a second chance. I don't know whether that will be granted but I have put him as my advisor.
"Wherever he is, I ask him to share one of his philosophies and I implement them the way he would have done."
At such times of grief, work can sometimes offer a welcome respite - and Ndlovu appears to have thrown himself into the job at Mochudi, with spectacular results.
"I'd attribute my successes in Botswana to hard work," said he former Warriors winger says. "The boys have done very well because they have been working extremely hard.
"We had an ambition to win the league - only the second time in the history of the club - and after that, take it step by step."
It has been a journey full of lessons for Ndlovu, who was aiming to guide Chiefs to their maiden appearance in the group stages of the Confederation of African Football (Caf) Champions League.
But they crumbled at the hands of experienced campaigners TP Mazembe, who defeated them 7-1 over two legs.
Ndlovu thinks Chiefs inability to progress is a mirror reflection of the state of football in the southern African country.
"Botswana football is improving in the sense that most of the teams are trying to bring in coaches from other countries," he said.
"The teams that have brought in good coaches, players and invested in developmental structures have done really well.
"Football in Botswana is improving day by day. But what I have learnt is that it is still very, very far from being professional.
"There's probably very poor management which needs to be improved seriously in order for them to realise the talent they have."
Ndlovu is happy the Botswana Football Association has employed Englishman Keith Masters, who wants to run the country's football mother-body as a profitable entity, and he also believes the screening of the domestic league on pay television across Africa is further exposing the sport.
And despite the disappointment of the Caf Champions League, Ndlovu is already looking to the future.
"I'd be one very happy coach to win the league twice in the two years I have been with Chiefs," he says.
"Beyond Mochudi Centre Chiefs, I am judging myself with the rest of the coaches in the world.
"I have been with the national team of Zimbabwe and I was let down by my people; they didn't give the support I expected and now I am now looking at going on with the clubs."
Though his coaching career is flourishing in Botswana, Ndlovu has not lost touch with football in his native country.
But his face drops when you ask what he makes of the state of Zimbabwean football.
"Zimbabwean football has been tampered with. It has been characterised with evil," says Ndlovu who made his name at Highlanders before moving on to play for Sheffield Wednesday in England and Germany's Emsdetten 05.
"I'd say the administrators have no interest of developing football; they look at their own interests hence this match-fixing scandal that only serves certain individuals.
"It's a pity that the nation has gone so down in the rankings and yet we were one of the powerhouses in Africa... it's selfish administrators who have no interest at all in sport.
"It's heartbreaking. I am very much pain because we are the ambassadors of football in Zimbabwe and have worked so hard to build that name of football in the country."
He adds that he would like former footballers, the government and other interested parties to sit together and find a solution.
However, Ndlovu does not rule a return to coach Zimbabwe, possibly alongside his young brother Peter, who is currently an assistant coach for the Warriors.
"Nothing is impossible in life. There's no one day that we dreamt the three of us brothers would play for the Zimbabwe national team but one day, one coach saw it that we could play in the national team.
"I cannot rule out a return to coach in Zimbabwe - it's something that I definitely look forward to. We have been given a talent and that talent is not for us to keep in the bag but give it back to the people."