Fernando Torres: Chelsea three-year stay is on cards for Spaniard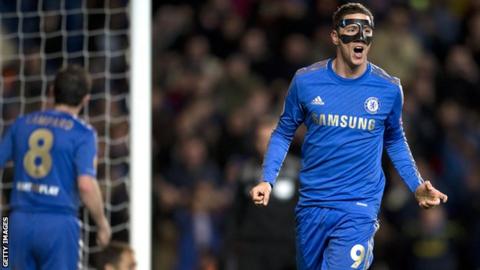 Chelsea striker Fernando Torres says he expects to stay at Stamford Bridge for at least three more years.
The 29-year-old Spain striker has scored only 14 Premier League goals in 78 appearances since joining the Blues from Liverpool for £50m in 2011.
Speaking ahead of Thursday's Europa League semi-final first leg against Basel, Torres said: "I have many things still to give to this club.
"I have three more years contract so I expect to stay at least three years."
Torres scored 81 goals in 142 games for Liverpool, while he netted 84 times in 214 league games for his first club, Atletico Madrid.
And, although he has found it comparatively difficult in London, Torres has still scored four times in the last three Europa League matches to help Chelsea to the last four.
"We won the Champions League last season," he added. "Hopefully we can win the Europa League. It is our priority as well as finishing in the top four [of the Premier League].
"We want to go back to the Champions League next season and keep winning trophies.
"We are sure that we are a great team and we want to show everyone. I would like to be involved."
Torres has scored 12 out of his 19 goals this season since the the arrival of Rafael Benitez - the man who took him from Atletico Madrid to Liverpool - as Chelsea's interim boss.
"It's never easy to change the manager in the middle of the season," continued Torres.
"It happened to us last year and we won the Champions League. It happened this season again with Robbie [Roberto Di Matteo] and when Rafa came.
"We know each other from our time in Liverpool. It was a great time for everyone, but the situation at Chelsea is different.
"It has not been an easy season for anyone, but I think we have improved as a team and we are all focused on the same targets."