Jerome Valcke: Fifa chief says too much democracy can be hindrance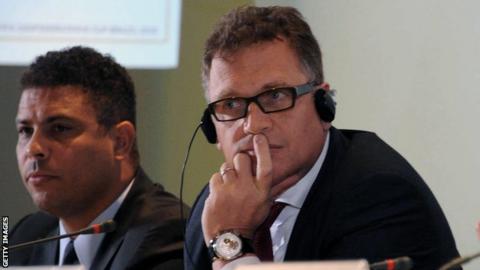 Fifa secretary general Jerome Valcke has said too much democracy can be a hindrance when organising a World Cup.
Valcke said one of the reasons Fifa had encountered problems in organising the 2014 World Cup in Brazil was the various levels of government in the South American nation.
He expects fewer problems arising for the 2018 World Cup in Russia.
"I will say something which is crazy, but less democracy is sometimes better for organising a World Cup," he said.
Valcke was speaking at the start of a four-day symposium debating the FIFA World Cup as an event.
The conference is due to discuss a range of topics including the role that dictatorships and democracies have played in past tournaments and, Fifa say, "the multiculturalism and commercialisation that has defined the past two decades".
Valcke told delegates: "When you have a very strong head of state who can decide, as maybe [President Vladimir] Putin can do in 2018... that is easier for us organisers than a country such as Germany, where you have to negotiate at different levels.
"The main fight we have [is] when we enter a country where the political structure is divided, as it is in Brazil, into three levels - the federal level, the state level and the city level.
"[There are] different people, different movements, different interests and it's quite difficult to organise a World Cup in such conditions."