Jose Mourinho: Real Madrid made it easy for Robert Lewandowski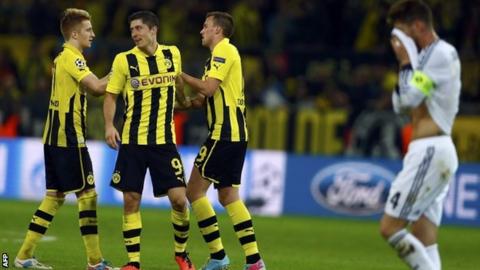 Real Madrid boss Jose Mourinho was "disappointed" his side could not stop Borussia Dortmund's Robert Lewandowski in their shock Champions League defeat.
Lewandowski scored four times to give the German side a 4-1 home win in the first leg of their semi-final tie.
"When we know everything about him and we lose him in three goals it's disappointing," said Mourinho.
"Of course the boy deserves credit for what he did but we gave him big support to be man of the match."
Poland striker Lewandowski, 24, has now scored 10 goals in 11 Champions League games this season.
His quartet against nine-time European champions Real made him the first player to score four in a Champions League semi-final.
It was also the first time a player has scored a hat-trick against Real Madrid in the Champions League.
Portuguese Mourinho, who has suffered semi-final defeats in his two previous seasons with the Spanish champions, added: "When I lose and I don't deserve to lose, for me it is a drama. When I lose and I deserve to lose, it's a situation that I accept."
Asked if his team could make the final - likely to be against Bayern Munich following their 4-0 win over Barcelona on Tuesday - Mourinho replied: "It is very difficult but anything can happen in football.
"Of course we can, on a crazy night, where everyone performs at a high level and every chance you have and every goal you score is with a high level of efficiency."
Mourinho is aiming to become the first coach to win the European Cup with three different teams following successes with Porto in 2004 and Inter Milan in 2010.
With reports saying he could leave Real this summer, he said of his side's performance in Dortmund: "I think many of the boys didn't perform and many of the boys didn't have a good night and this is exactly when you cannot make mistakes, because at club level this is the second most important match in the world of football.
"The first one is the Champions league final, the second one is the Champions League semi-final, so when you don't perform on a very special day it is very disappointing."