Charles Green could put Rangers out of business - Brown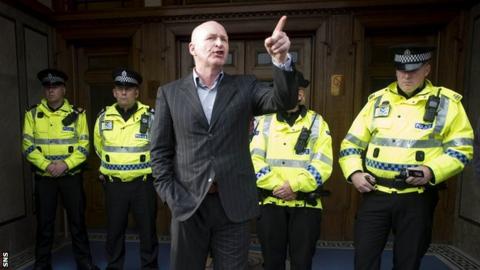 Former Rangers scout John Brown fears the Ibrox club could be put out of business by former chief executive Charles Green.
Green is the subject of an internal investigation over alleged links with former owner Craig Whyte, who still claims he owns the club's assets.
Brown claimed in July that Green's consortium did not own the club.
Asked why Green would now attempt to close Rangers, Brown replied: "Well, you better watch developments."
Brown, now manager of Dundee, was speaking as it emerged that who was in control when Rangers entered administration last year.
It was the latest development in a war of words between Green, whose consortium took over Rangers following liquidation, and Whyte over the club's ownership.
Amid the fallout, Green stood down as chief executive and it has emerged that
Brown had fronted a failed alternative bid for the club last summer and famously stood on the steps of Ibrox demanding that Green make public his deeds of ownership.
"Things that I said at the time are coming to fruition," he told BBC Radio Scotland's Sportsound.
"What is happening now is proof of what I said last summer.
"I said one thing, show us the deeds, and that still stands.
"I told certain people at Ibrox. I stood on the steps and I tried to tell everybody and warn everybody, but it [fell] on deaf ears."
Brown said he left the club after a conversation with the future chief executive.
"I had a good meeting with Charles Green but then packed my bag and gave up my job as a scout, because he said one or two things that made me feel uncomfortable," he said.
"So I emptied my office and left that day.
"He told me that he had the ultimate sanction to put the club out of business."
Brown admitted that he had been unable to take the matter further.
"I knew everything that was going on, but I couldn't substantiate it with proof," he said.
"I put my head above the parapet. A lot of people didn't.
"Andy Goram stood by me, one of the very few ex-players who stood by me.
"There's a number of people within Rangers that, at that period, had conversations with me regards the worry they had for the club, but they never stood by me.
"People wanted facts, they wanted it in writing, 'show us the proof'. I knew what was going on, I couldn't show them.
"Out of respect for a very good team-mate of mine in manager Ally McCoist and a very good friend, I took a step back because season tickets were bought and I thought 'right, let them get on with it'."