Crystal Palace's Yannick Bolasie aims to help DRC youngsters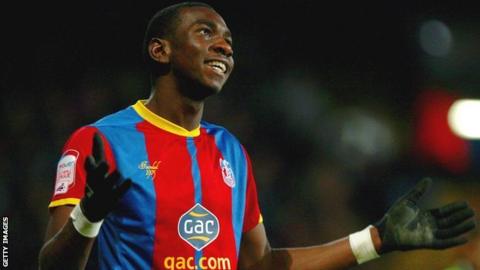 As soon as he arrived in Kinshasa, Yannick Bolasie knew he simply had to do everything within his power to help young people in the country which his parents used to call home.
The 23-year-old Crystal Palace winger was recently in the capital of the Democratic Republic of Congo to make his international debut.
For a youngster who was raised in London, just a stone's throw from Wembley Stadium, it was certainly an eye-opening experience.
"It was definitely a culture shock," Bolasie told the BBC's World Football programme at the Kick It Out, Raise Your Game anti-racism conference in London.
"A lot of things we've got here we take for granted - if we gave it to them they'd relish it so much you wouldn't believe.
"When I came off the plane and got into the car driving to the hotel I was looking at what was going on in the streets. It made me think 'I want to do something'.
"I want to give something back to them and get involved in loads of things, even if I can set up youth clubs for kids to keep entertained."
Bolasie, who joined Palace last August from Bristol City, has already become a fans' favourite at Selhurst Park with some rating him as highly as Wilfried Zaha, who will join Manchester United this summer.
"Seeing Wilfried get signed by United is an inspiration. It's shown me there must be a lot of people coming to watch Palace. I think Arsenal were watching him as well, so that inspires everyone in the team.
"Getting to the Premier League would be a different step in my life and would show people that hard work pays off. As long as Palace get there, I'll be happy. Hopefully we can do it this season."
Like Zaha, when it came to international football, Bolasie had a big choice to make.
But while Zaha plumped for England over Ivory Coast, making his debut in against Sweden in November, Bolasie opted for the DRC.
After turning down the chance to play in the Africa Cup of Nations to concentrate on playing for Palace, he eventually won his first cap in last month's 0-0 draw against Libya.
"It was a dream come true for myself. Representing my mum and dad's country has been fantastic.
"I was always in two minds, when I saw Wilfried get called up for England and I thought 'OK, there's a chance [of me also getting called up by England] because I'm doing well myself'.
"But at the end of the day I thought I'd go and play for my mum and dad's country.
"The love they've got for the game over there is something else. During the game against Libya it felt like there was a party in the stands with all the drums, everyone wearing masks and the sun out. It was really something else.
"While I was there I also met my grandmother for the first ever time. Words couldn't explain how that felt - it was an emotional time. The whole family was very proud. A lot of them came to see me in the hotel after the game.
"My mum and dad were really happy too, they watched the match on the internet."
Bolasie's dream is to help DRC, who are managed by the legendary French coach Claude Le Roy, reach the World Cup finals for the only the second time.
They sit third in their qualifying group, only two points behind leaders Cameroon.
While only the group winners will progress to the next phase of qualifying, Bolasie said: "I think there's a huge chance for us.
"We play Libya again who are second in the group. We drew with them 0-0 but personally I think we should've beaten them.
"Then we've got Cameroon in Kinshasa. We've already beaten them but it'll be a good match because they've got a lot of star players who are coming - Samuel Eto'o, Alex Song, Benoit Assou Ekotto of Tottenham.
"It'll be good to put myself amongst those type of players."
Closing in on the Premier League and possibly a World Cup is all a far cry from Bolasie's humble beginnings in football when he moved to Malta after failing to impress league clubs in England.
"I was playing semi-pro at Hillingdon Borough at the time and my cousin set up a trial for me at Floriana when I was 18. Basically over there they kept the league protected, they were only allowed three foreigners. So for me to get in to play for them as a teenager was a huge achievement.
"It showed me that I do have something about myself and talent to go all the way."
And after seeing how difficult life can be for young people in DR Congo, Bolasie is even more determined to make the most of every moment as a footballer.
"Because of my background I never take anything for granted. Seeing what's going on in Congo and how people live over there, definitely not."
Away from football he has become an ambassador for War Child.
"It's a charity that looks after child soldiers, they do a lot of stuff in DR Congo and many parts of Africa," he said.
"What I'm trying to do for them is be their first ambassador who's an athlete. To show people that a lot of people care about them and they're not alone because there's a lot of incidents going on in Congo that people don't know about. We're trying to get everyone to recognise what's going on."
Listen to the full interview on the BBC World Service's World Football Podcast.