Bournemouth chairman Eddie Mitchell wants trophy U-turn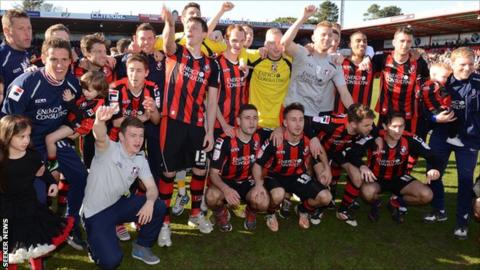 Bournemouth chairman Eddie Mitchell has asked for a U-turn on the decision to not allow them to parade the League One trophy if they win it on Saturday.
The Cherries top the table and victory against Tranmere will seal the title.
But the club have been told they will not be allowed to receive the trophy at Prenton Park after the game
Mitchell told BBC Radio Solent: "We've got to win it first. My view is it would be great to celebrate on the day and we will push the point."
Merseyside police told BBC Radio Merseyside on Thursday that the decision was made by Tranmere Rovers, but the club have so far been unavailable for comment.
Steve Roper, head of the Tranmere Former Players' Foundation, told BBC North West Sport: "Other clubs will look at us and we'll be a laughing stock.
"They [Bournemouth fans] are there to celebrate, the team will be celebrating after the game so why can't they be given the trophy?
"It's what the fans have paid to see and, to be honest, if I was at an away ground and my team were crowned champions I would expect to see the trophy; that's what I would be paying for."
More than 2,000 Bournemouth supporters are expected to make the trip north and Mitchell insists they ought to be able to see the trophy lifted if their team win the title.
He said: "If we do win it, then we want to celebrate on the day. There is nothing better than celebrating at the time when you achieve victory.
"As far as I am aware they have not given us a reason. To celebrate on the day is what I thought it was all about.
"If we are unable to, I would ask the fans to be patient and celebrate on the Sunday.
"It is disappointing, especially when you wait so long to achieve something like this. But we don't make the rules."
And Bournemouth manager Eddie Howe told BBC South Today: "If we were lucky enough to win the division then we would have loved to have celebrated with our fans on the pitch"
The club are planning an open-top bus parade on Sunday to celebrate promotion.