Lower league clubs worry over youth academies shake-up
By Chris Doidge
5 live Investigates
Last updated on .From the section Football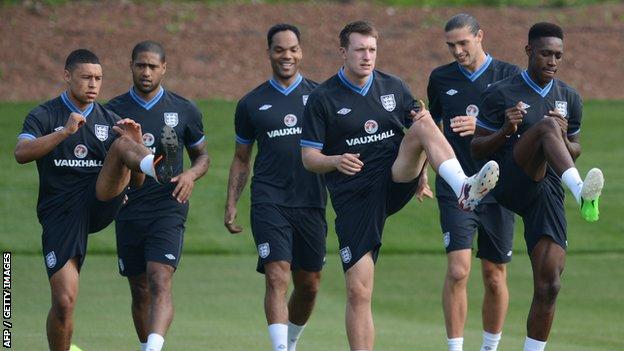 A BBC investigation has found significant concerns among lower league clubs about changes being made to youth football academies.
New rules require English clubs to spend minimum amounts on youth development programmes and set fixed fees for the transfer of young players.
A majority of the Football League clubs voted in favour of the changes, but many in Leagues One and Two say it is not an improvement.
The Premier League says the strategy is "designed to take Premier League youth development to the next level".
The programme, known as the 'Elite Player Performance Plan' (EPPP) was introduced in 2011 and means youth academies must be audited and categorised.
All clubs with an academy must provide a mandatory level of facilities and staff.
This includes access to an indoor pitch, at least 20 computers, an academy doctor and physiotherapist.
The largest (Category One) academies must spend around £1.5m on youth development, while the smallest (Category Four) must spend around £100,000 per year.
These sums are then added to by Premier League funds, but the initial investment has caused problems for some clubs.
Yeovil Town and Wycombe Wanderers have closed theirs, while Crawley Town has downgraded its academy.
5 live Investigates approached every club in Leagues One and Two of the Football League to seek their opinion of EPPP.
Of 48 clubs, around half replied. The majority of those said they had concerns about EPPP, and many didn't feel it was better than the previous system.
Two clubs said they preferred EPPP, but admitted they may lose out financially from lower transfer fees.
Several other clubs had mixed feelings about EPPP's introduction.
'Devastating impact'
Richard Willis's stepson, Callum, was registered by Yeovil Town in 2011, aged eight.
But in April 2012, Yeovil announced it would close its academy in response to the introduction of EPPP.
Mr Willis said it had a devastating impact on Callum and his team-mates.
He said: "You have got lads who have been given contracts and, through no fault of their own, had them removed.
"The club is very dear to the family and it is a travesty for a club not far from the second tier of English football not to have a youth system."
Callum was subsequently given a contract by Exeter City. His step-father is grateful, but it has meant some sacrifices.
Richard said: "There's a lot more time and expense now, doing a 100-mile round-trip, three times a week.
"It puts pressures on home and work life - I have to finish work early to take him down there."
Yeovil Town's chief executive, Martyn Starnes said the club had voted for the introduction of EPPP, but said: "We didn't agree to it with much enthusiasm."
He added: "We're disappointed with what we've been forced to do, but we can only play with the cards that are put in front of us."
'Little option'
Exeter City's chief executive Julian Tagg is critical of EPPP, although the club voted in favour of its introduction.
He said the club "had very little option but to accept the deal, like so many clubs."
He said: "I think the motivation is very simple. It is so Premier League clubs can take the best players."
The BBC has been told Football League clubs felt if they didn't agree to EPPP, solidarity money - worth hundreds of thousands of pounds to clubs in Leagues One and Two - would not be forthcoming.
Solidarity money comes from Premier League television contracts, and is supposed to trickle down to lower league clubs.
EPPP also fixes compensation paid to clubs when a young player is sold on.
In many instances, this could mean Premier League clubs paying less for talented youngsters.
Upfront fees for 16-year-old players are capped at £109,000, although compensation could increase if the player is a success.
The Premier League declined to answer questions about the impact of EPPP.
Its website states the plan was drawn up in consultation with representatives of the Football League.
And it adds: "The new system will create greater access to players so that they can receive more time to train and prepare effectively for a career in the Barclays Premier League."
The Football League said: "The Elite Player Performance Plan was originally devised by the Premier League and introduced following a vote by Football League clubs in October 2011.
"The League supports the basic principle of taking Youth Development forward, as its clubs play a crucial role in nurturing the next generation of playing talent."
You can hear the full report on 5 live Investigates on Sunday, 28 April, at 11:00 BST on BBC 5 live.
Listen again via the 5 live website or by downloading the 5 live Investigates podcast.