Dartford boss Tony Burman mulls over full-time offer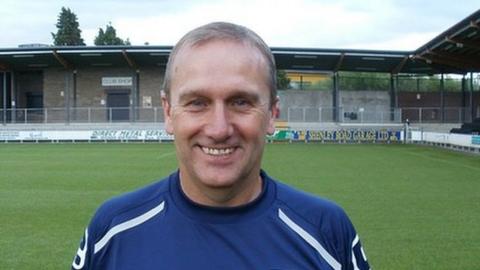 Dartford have ruled out becoming a full-time club next season, but manager Tony Burman is considering a permanent position at Princes Park.
The Darts finished eighth in the Blue Square Bet Premier, making them the best part-time team in the country.
"We are considering it," Burman told BBC Radio Kent. "But I can't see it happening next season.
"We need to go up a gear. We have lots to do behind the scenes and it might be a little mission for me to start."
He continued: "Since I've been here, if you look at the hours you put in, you're full-time anyway.
"The club have asked me if that is a possibility and yes, I am considering it."
Burman has been in charge of the Darts since 2005 and has overseen their transformation from the Southern League to the top flight of non-league football.
He has run a courier company alongside his footballing duties but admitted concentrating solely on football would be a positive step if the club wanted to become full-time in the future.
"You have to start somewhere," he said. "We've got to improve the academy and maybe an apprenticeship scheme.
"There's no timescale as long as it's right for both parties.
"Each year I've felt that if we can get to the Conference, I can go and do something else but it's like a drug. You keep coming back for more."
On their return to the Blue Square Bet Premier, the Darts belied their status by finishing above full-time sides like Forest Green Rovers and Luton Town..
Throughout the season, the Darts have struggled to attract Football League players to drop down a level Burman was keen to play down hopes of promotion if the switch came in 2014-15.
"The minute we say we're going full-time, the expectation is that we'll win it but it's a big step," he said.
"The team will probably drop down with the players you bring in but I'd like to have a go at it.
"I can't see it being next season but we have to put plans in place for it to happen in the future.
"We are seriously thinking about it. If we do it, we have to do it gradually."