SFA asks Rangers for clarity regarding Green & Whyte links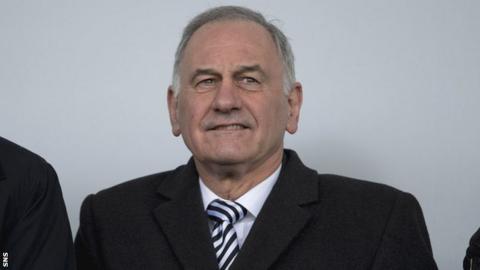 The Scottish FA is seeking further information from Rangers regarding allegations of Charles Green's dealings with former owner Craig Whyte.
The SFA wrote to Green, now the club's former chief executive, a fortnight ago seeking clarification.
Having received a response, they have asked for more details on certain matters.
Whyte has alleged Green agreed to act as his front man and believes he still has a claim to the club's assets.
Green denies any wrongdoing and claims he was merely stringing Whyte along to effect the takeover of the club.
He admitted that Whyte had deposited £137,000 in a Rangers account and would not take the money back.
Assurances from Green's consortium last summer that Whyte had no involvement was key to the SFA granting Rangers a licence to play in the Third Division.
after into the allegations of his secret dealings with Whyte, who took the club into administration in February 2012.
On Wednesday, Worthington, a firm buying into Whyte's businesses, about Green's practices when the consortium he was fronting bought Rangers' assets for £5.5m.
Two weeks ago the company that funded his purchase of Rangers from Sir David Murray. He has been ordered to pay the finance firm £18m.