Esmael Goncalves happy to return to St Mirren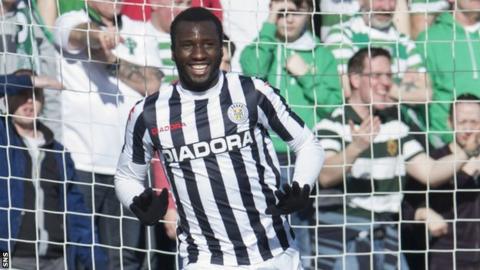 On-loan forward Esmael Goncalves has given St Mirren supporters a boost by insisting he would be happy to return to the club next season.
But he admitted his main short-term aim is getting into the first team at the Portuguese side Rio Ave.
The 21-year-old is contracted to Rio Ave for another two seasons, but says if another loan spell is in the offing, he would enjoy a return to Paisley.
A transfer fee of about £500,000 would be required for a permanent switch.
That makes it unlikely that Buddies manager Danny Lennon could have him in his squad beyond another short spell.
Goncalves is hero worshipped by the club's fans having helped the team win this season's Scottish Communities League Cup, scoring in the final just two months after arriving in the winter transfer window.
"Of course I would be happy to come back here for the season," he told BBC Scotland.
"I feel good here, the people love me here and I love the people.
"I'm going to be finishing in one month but you never know what'll happen for the next year.
"But it is a priority to get into the Rio Ave team because I came here to get more games and I've done that."
Goncalves made an immediate impact at the club, scoring in his first game as he broke the deadlock in their League Cup semi-final victory over Celtic.
He went on to score in his second appearance against Inverness and, most notably, the crucial equaliser in that final triumph over Hearts.
But he has missed the club's last two games - a 2-2 draw at Motherwell and a 2-1 defeat to the bottom side Dundee - through suspension.
Goncalves was cited for causing a match official to make an incorrect decision by committing an act of simulation in last month's draw with Celtic.
But he is keen to return to the side for this weekend's trip to Hibernian with Dundee's hopes still alive despite the 10-point gap existing between the Scottish Premier League's bottom two sides.
"It's been really bad to see the team from the stand because maybe if I was playing I could have done something," he said.
"It was very frustrating.
"I don't know if we will get the win this weekend or the next week, but I know we're going to do it, I'm not worried about that.
"We shouldn't be in 11th but we're going to win maybe three of our last four games.
"We have a good team so we should be higher than we are."