Premier League: New chairman will need to build bridges

By David Bond
BBC sports editor
Last updated on .From the section Football47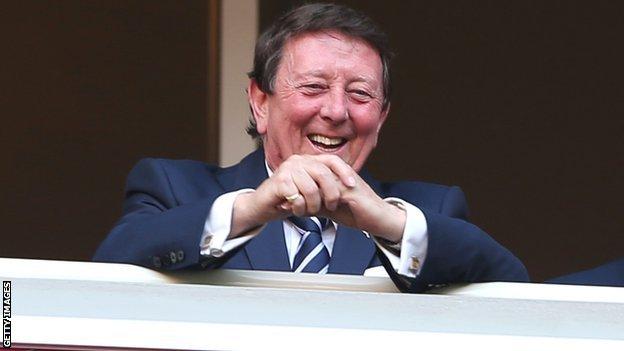 The Premier League is close to appointing a new chairman to replace the controversial figure of Sir David Richards.
Final interviews with the candidates have been taking place this week and a special meeting of the 20 Premier League clubs has been scheduled for Friday.
Although Premier League officials are not yet confirming the announcement, a recruitment panel headed by Chelsea chairman Bruce Buck is likely to make a recommendation, on which the clubs will vote.
Sir Keith Mills, the former deputy chairman of the London 2012 Olympics and a director of Tottenham Hotspur, has been repeatedly linked to the post, but I am told there are other serious contenders in the running for one of the biggest jobs in English football.
Whoever lands the position will take over at a critical moment for the Premier League.
With a 70% increase in television money due to kick in from the start of next season, English football's elite are about to enter a new financial boom.
New rules limiting annual losses and players' wages are being phased in to ensure the new money is used in a more sustainable fashion. But a small group of clubs, including Manchester City, are in a mutinous mood and managing the introduction of the regulations will need to be handled sensitively.
Richards was appointed chairman in 1999. During that time, the Premier League has grown to become the richest in world football.
But his public comments and political manoeuvrings have often heaped embarrassment on the competition, most notably when he claimed last year that Uefa and Fifa had stolen football from England. Somehow, though, he has always managed to resist calls for his resignation.
Premier League chief executive Richard Scudmaore, while acknowledging Richards's weaknesses, has repeatedly defended his chairman, arguing he is a crucial sounding board and lightning rod for the clubs.
After 14 years in the job, Richards's successor will want to make a fresh start and set a new tone for the job, especially as the competition looks to strengthen its status overseas.
He - or she - will have to build a close relationship with the Football Association and its new chairman, Greg Dyke, who takes over from David Bernstein in the summer.
Bernstein's conciliatory manner has led to much improved relations between the FA and Premier League over the last two and a half years, but Dyke is a very different personality who may look to reassert the FA's authority.
The area which will need an even defter touch when it comes to the Premier League's relationship with Uefa and its French president Michel Platini. The two organisations have not seen eye to eye for ages, mainly over what the Premier League perceives as a lack of consultation on fixture scheduling around the Champions League and Europa League.
With chief executive Scudamore such a high profile and dominant figure, it is hard to see the new chairman usurping him as the Premier League's public face.
Scudamore is the driving force behind the Premier League's remarkable two decades of success and expansion and the chairmen will not want to pick a new boss who might compete in any way with the chief executive. Besides, Scudamore is too smart an operator to allow that to happen.
In many ways, the new chairman's role will be to work quietly behind the scenes to smooth problems over - both domestically and internationally - to ensure the Premier League money machine keeps on rolling.