John Ward: Bristol Rovers boss wants 'experienced' assistant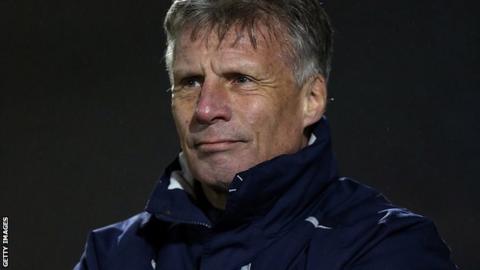 Bristol Rovers boss John Ward wants to appoint a new assistant with previous managerial experience.
Shaun North has been Rovers' number two since 2011, but has not been offered a new deal for next season.
Ward, 62, is looking to rebuild his backroom team after agreeing a new 12-month rolling contract.
"We're looking for someone with managerial experience. We want someone who knows what this league is about," he told BBC Radio Bristol.
"We've not approached or spoken to anyone but I've had a number of enquiries so it's a pretty open book at this stage."
North was brought to the Memorial Stadium by former Pirates boss Paul Buckle.
He took charge of first-team affairs following Buckle's dismissal in January 2012 before continuing in his previous role during Mark McGhee's 11-month tenure.
Speaking about the decision not to renew North's contract, Ward added: "It wasn't a question of him not doing his job. He's been so supportive, as have Marcus [Stewart] and all the back room staff.
"We just feel we need to move in a different direction.
"I've got nothing but praise for him and if other people ask for a reference for his services, then I'll give him a good one."