Walsall: Will Grigg and Febian Brandy still to decide on future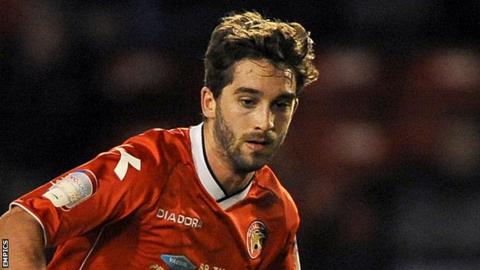 Walsall manager Dean Smith is waiting on decisions from strikers Will Grigg and Febian Brandy before he formulates just how big a summer overhaul he needs to make to his playing staff.
The club are still negotiating with both players, as well as Adam Chambers.
"There's been a lot of talk," Smith told BBC WM. "We might lose some players this summer but we've plans in hand to replace them.
"We can only do as much as we can, then it's up to them to make a decision."
There are also deals on the table for frontman Craig Westcarr, defender Ben Purkiss and Chambers' twin brother James.
But it is the future of Walsall's two most marketable assets, 24-year-old and Brandy and 21-year-old Northern Ireland international Grigg, the club's 20-goal top scorer, that is of most immediate concern as the Saddlers prepare to build on last season's promising ninth-place finish in League One.
"We think it's in their best interests to stay at Walsall and keep developing," added Smith. "If not, we'll plan without them. Nobody's ever bigger than the club.
"They've done very well this season, but I'd like to think we've given them the support to do that.
"Will's come through the system here. But he doesn't want to go somewhere where, if hasn't scored for five games, he gets dropped and ends up sidelined for the next two years.
"If someone comes in they've got to meet our valuation. And a player of League One standard who's just scored 20 goals is going to be a lot of money.
"Febian's a Bosman at the end of the season, so he's a little bit of a different kettle of fish.
"But he's had a couple of problems over the last few years. He's found somewhere he feels comfortable and hopefully that will push him towards having another season with us."
But defender Richard Taundry, strikers George Bowerman, Aaron Williams, Jake Jones and Connor Taylor, who spent a large part of the season out on loan at Nuneaton, have all been let go.
Bowerman was a first-team regular in the early part of the season, hitting five goals in six games in September to be named Football League Young Player of the Month.
But he then fell out of favour, making just five late substitute appearances from the turn of the year onwards.