Northampton Town hope Lee Collins can play despite curfew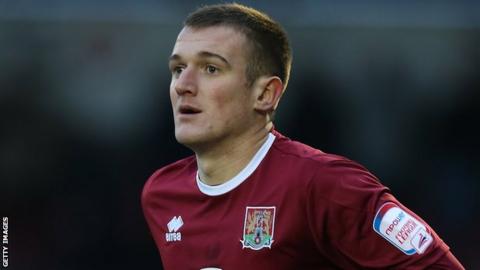 Northampton Town defender Lee Collins is expected to be available for their evening League Two play-off matches despite being subject to a curfew.
The 24-year-old was given a 12-month prison sentence, suspended for two years, for assaulting a man.
Manager Aidy Boothroyd told BBC Radio Northampton: "I believe the judges will take into consideration his job.
"That's with the legal people, so hopefully they can sort it out. We're very positive he'll be able to play."
As well as being placed on a curfew for 12 weeks between 20:00 BST and 06:00, the former Shrewsbury and Port Vale man had to pay a fine and complete 150 hours of unpaid work for the incident last year.
The first leg of the League Two play-offs is a 19:45 BST kick-off, and there is a chance the second leg could be played at 18:45 BST.
"I believe that people are allowed to make mistakes and what he's got is a second chance," said Boothroyd, who spoke as a character witness at Collins' sentencing.
"I think he's a good character and a good role model."
Collins has made 14 appearances for the Cobblers since joining in February.
"I let myself down and a lot of people down," said Collins.
"But I hope people know it was a long time ago. I've changed as a person and I don't put myself in those situations any more."