Norwich City: Ryan Bennett's Twitter charge 'a warning'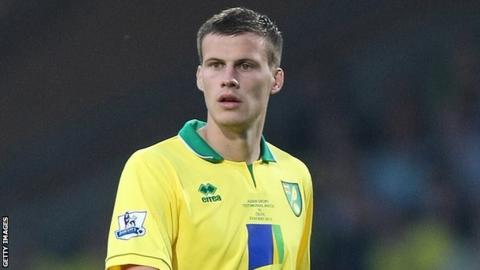 Norwich boss Chris Hughton has said Ryan Bennett's FA made on Twitter should act as a warning to other players.
Bennett, 23, was involved in a heated exchange with fans online.
"We have a social media policy, so it's being dealt with at club level," Hughton told BBC Radio Norfolk.
"In any conversations on Twitter you have to be conscious of the position you are in. Sometimes players forget that."
He added: "It's a warning to any lads, particularly when you've got somebody like Ryan, who's a really good lad."
Bennett has been charged with using "abusive and/or insulting and/or threatening words" on Twitter by the Football Association and has until 16:00 BST on Friday to respond.
Norwich will discipline the defender internally, but Hughton has said the charge will not affect his selection for Saturday's game against Stoke.
Bennett, who has since deleted his Twitter account, signed for the Norfolk club from Peterborough United in January 2012 and has so far made 24 appearances, scoring his first Premier League goal in