Luis Suarez: Brendan Rodgers' defence overplayed and misplaced

By Phil McNulty
Chief football writer
Last updated on .From the section Football1097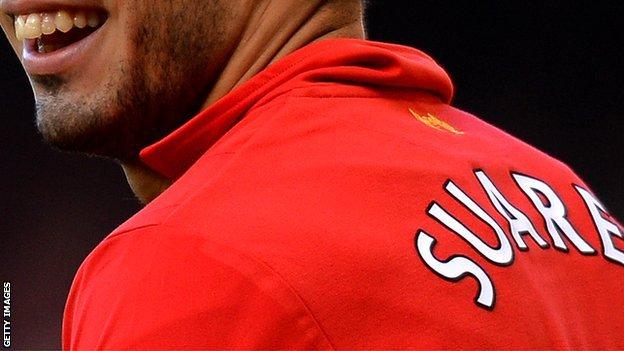 In the hours after Luis Suarez's bite on Chelsea defender Branislav Ivanovic, Liverpool looked to have learned the lessons from the public relations shambles that accompanied the Uruguayan's last brush with authority.
On Sunday, in the aftermath of the 2-2 draw against Chelsea at Anfield, boss Brendan Rodgers and managing director Ian Ayre were swift in their condemnation of Suarez and the player issued a statement expressing his own contrition.
Rodgers spoke about Liverpool's "incredible values and ethics" with a warning that no-one was bigger than the club. Those inside Anfield received credit for their quick response.
Since then, however, Liverpool's statements have gone into reverse gear to such an extent that the media briefing held by Rodgers on Thursday afternoon ended with Suarez cast in the role of target for Football Association persecution as opposed to someone who had bitten - not for the first time - a fellow professional.
Liverpool appear so gripped by fear of losing the 26-year-old that they are now in serious danger of repeating some of the mistakes that damaged their image during the Evra saga while also transforming Suarez into a figure who is bigger than the club.
No-one would expect Liverpool to cast the £40m-rated Suarez adrift or fail to offer him any support after he was hit with a 10-match ban. Indeed, Rodgers will have hit plenty of the right notes with some fans and the striker's fellow team-mates.
And the idea that Liverpool should sacrifice a world-class player and valuable asset to make a moral point was also a nonsense - which other club in the world would do the same?
But Rodgers' statements were made before seeing the FA's report outlining the reasons for the punishment and it may have been the wiser course to keep his counsel until then. Caution should have been the manager's watchword - but it seems he was unable to toe that line.
Rodgers could have scoured the written reasons and mounted his argument based on that information instead of choosing to launch a wide-ranging attack on the suspension handed to Suarez and the processes used in arriving at the decision.
Instead, Rodgers almost made it sound like Suarez had been the victim of a plot hatched by the game's establishment rather than a repeat offender who has failed to learn from previous sanctions or curb his excesses by sinking his teeth, without provocation, into Ivanovic's arm.
Rodgers said the suspension handed out by the FA for his bite on Ivanovic "is against the man rather than the incident".
Here, Liverpool's manager misses the point spectacularly. In this case, the man had to be considered when inflicting the punishment.
Suarez has been warned about his future conduct before, but Sunday's shocking incident suggests he is either unwilling or unable to heed that message. "The man" has been involved in too many incidents for his previous history to simply be ignored.
If this had been Suarez's first biting offence it would have been bad enough, but Rodgers has to accept that he is a repeat offender. So "the man" must be part of the disciplinary equation.
Liverpool, and it is understandable they make this point, recall Jermain Defoe biting Javier Mascherano and escaping a heavy ban. He was booked at the time but the rulebook has moved along since then and today it is certain he would be charged under "exceptional circumstances".
Suarez's bite on PSV Eindhoven's Otman Bakkal in 2010 was not part of the deliberations this time but he accepted a seven-game ban without complaint so Rodgers' suggestion that "it could have been 12 - six with six suspended" - was effectively plucked from thin air.
Rodgers also brought culture into the argument as he said: "If you look at South American players they do whatever it takes to win. This is the way they have been brought up. To fight for their lives."
This may be the case but not too many South American imports to the Premier League have had to admit their guilt for biting another player - so once again this is a subject Rodgers might have been wise to avoid.
Liverpool may yet appeal against the ban - they seem aggrieved enough to do so. It is their right if they feel Suarez has been unjustly treated, but the club and their manager must also tread a fine line between backing the player, who it appears they simply cannot contemplate living without, and turning him into a martyr no matter what offences he commits.
It would not have suited our purposes in the media had Rodgers restricted his comments on Thursday and waited to read all the written submissions on the case.
It might, however, have suited Liverpool's.