Winger Gary Mackay-Steven content at Dundee United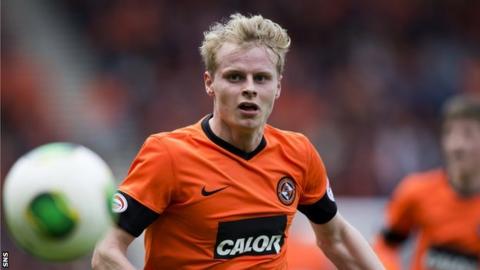 Gary Mackay-Steven insists his pleasure at playing for Dundee United means he is no rush to look for another club.
David Goodwillie and Scott Allan left Tannadice for higher wages at Blackburn and West Brom respectively but both have since struggled to make an impact.
"I'm not thinking about moving on," said the Scotland Under-21 winger.
"The main thing is to be happy and enjoying your football, which I am at United. Things are going well - the grass isn't always greener elsewhere."
Another of Mackay-Steven's team-mates,
Huddersfield offered United £1.25m for the pair last summer,
Mackay-Steven has been nominated by his fellow professionals for the PFA Scotland young player of the year award, which can only serve to add to his attraction to other clubs, but he maintains he is not looking to move.
"I just take every game as it comes and I'm quite happy here," he said.
"We've got a great young team that has been doing well and I feel quite settled, so I'm definitely enjoying my football."
Russell used Twitter to deny that he had asked for a move away from Tayside after United released a statement criticising the behaviour of his agent.
But Mackay-Steven in not shocked to see his team-mate attracting offers.
He said: "I'm not surprised big teams are interested in Johnny. He was banging in the goals before he got his injury.
"I haven't really spoken to him about it; we don't really speak about that, we just have a laugh.
"But having a big club in Italy interested in him just shows how well he's done this season."