Luis Suarez bite: Newcastle's Alan Pardew urges clarity on FA bans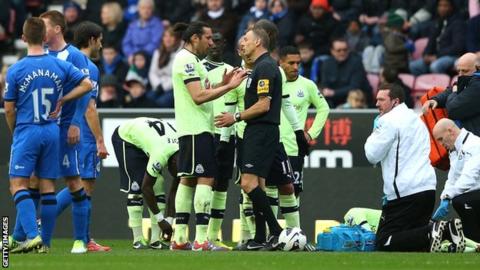 Newcastle manager Alan Pardew wants the Football Association to provide more explanation in disciplinary cases.
Liverpool striker Luis Suarez was given a 10-match ban for biting but Wigan's Callum McManaman escaped punishment for a bad tackle on Massadio Haidara.
"It would be interesting for all Premier League managers to know why it's 10 games," Pardew said.
"There needs to be a procedure for us managers to know where we stand with these disciplinary decisions."
With McManaman's tackle on Newcastle's Haidara, no additional action could be taken because a match official saw it at the time.
Under its current rules, the FA can only revisit an incident when it has not been seen by any of the match officials - the referee and his two on-field assistants, plus the fourth official, who is entitled to contact the referee during play to bring violent conduct to his attention.
The longest bans issued by the FA is nine months, to Eric Cantona for his infamous kung-fu kick on a Crystal Palace supporter in 1995, and to Chelsea goalkeeper Mark Bosnich, who tested positive for cocaine in 2003.
QPR's Joey Barton, now on-loan at Marseille, was banned for 12 matches in May last year for two counts of violent conduct in the final game of last season against Manchester City.
In a high-profile case last September, Chelsea captain John Terry was banned for four matches and fined £220,000 for racially abusing QPR defender Anton Ferdinand.
Suarez, who received a seven-match ban for biting while playing for Ajax in 2010, had previously been banned for eight matches by the FA in December 2011 for racially abusing Manchester United defender Patrice Evra, before his latest offence, biting Chelsea's Branislav Ivanovic in Sunday's 2-2 draw at Anfield.
On Suarez, Pardew added: "It's an incident that everybody was shocked by. Suarez probably even shocked himself by doing it. But you have got young kids playing in the park and obviously we don't want to see that kind of action.
"Having said that, we feel that some of the fines we have taken at this football club are fair, but you do want to get a general feel of exactly why these decisions are made."