Jersey Premiership: Wanderers close in on second place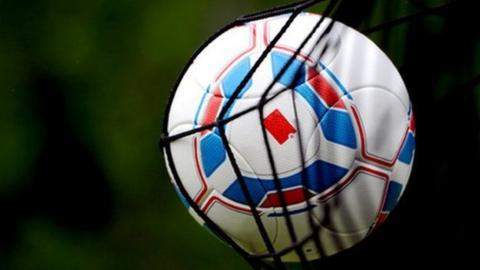 Jersey Wanderers could overtake St Paul's and claim second place in the island's Premiership after they beat Grouville 2-0 and St Paul's slipped up at fourth-placed St Brelade.
Ben Gallichan and Jean Moubeke sealed Wanderers' win, while St Brelade held St Paul's to a 1-1 draw.
Bradley Rimeur opened the scoring for St Brelade before Craig Russell equalised for second-placed St Paul's.
Wanderers are now two points off St Paul's with a game in hand.
St Ouen and Jersey Scottish, whose game on Wednesday decided not to play the fixture and the game has been called a 0-0 draw.
In the Championship Trinity ended the season with a perfect record of 16 wins from 16 games as they beat second-placed St Clement 2-1 thanks to a Daryl Wilson strike and an own goal.
First Tower United's final game at their La Hague Manor home ended up as a 2-2 draw against Portuguese.
Paul Duffy gave Tower the lead after six minutes before Ricky Figueira struck twice for the visitors.
But Matt Swinburne equalised in the sixth minute of stoppage time to secure a point.
Elsewhere Khalen Wright scored twice as bottom club St Martin got just their third win of the season as they beat Beeches 3-2.