Guernsey FC take seven points from nine at Footes Lane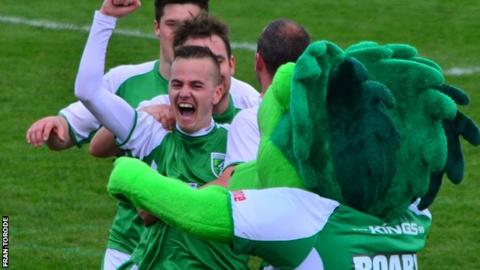 Guernsey FC's hopes of winning the Combined Counties League got a boost after they took seven points from a possible nine over the weekend.
As well as their two wins and a draw, league leaders Egham Town were thumped 6-1 at home by Hartley Wintney as Guernsey cut their lead to 11 points.
The Green Lions drew 1-1 with Ash United on Friday before beating Molesey 3-2 on Saturday.
They ended their triple-headed weekend with a 3-2 win over Sandhurst Town.
Guernsey now face five games in the next week as their marathon season comes to an end.
The backlog of games was caused by the combination of the club's and wet weather which meant their
Despite the results, boss Tony Vance told BBC Guernsey that winning the title will be a massive task.
He said: "Two or three weeks ago it wasn't looking great and to be honest it still isn't.
"But we're hanging in there, we'll keep going, trying to get as many points as we can.
"But we've got a ridiculous week coming up - five games in a week which is just crazy, so again were going to have to manage expectations. People are going to have to be realistic.
"But we're stubborn and we'll see if we can get a squad together for Tuesday night and get a result," he added.