Harry Redknapp: Championship would be tough for QPR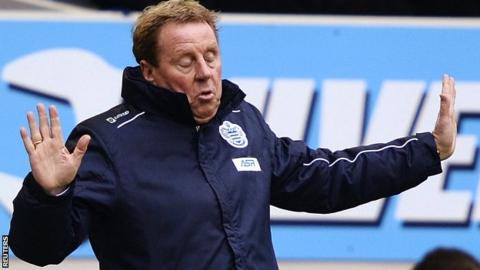 QPR manager Harry Redknapp says it will not be easy to make an immediate return to the Premier League if they are relegated this season.
Rangers have lost their last two games and will go down if they are beaten at bottom club Reading on Sunday.
"The Championship is full of quality clubs, with great stadiums, it's just full of big clubs," Redknapp said.
"It's going to be difficult to come straight back up. You can't think you can walk straight through the league."
Redknapp succeeded Mark Hughes at Loftus Road in November last year when they were four points adrift at the bottom of the table with only four points from 12 games.
After drawing his first three matches in charge, he presided over victories against Fulham and Chelsea but the team have failed to win any of their last five games.
With four matches remaining they are 10 points behind 17th-placed Aston Villa and only above Reading by a single goal.
"We've just not got enough (points). It has been a badly unbalanced squad," Redknapp said.
"I felt Andy Johnson and Bobby Zamora being injured took away the strikers. You need people who can score goals. You don't win football matches unless you can score.
"That was the problem... leading goalscorer, five goals. And there was nothing we could do about that until the window came round. We got Loic [Remy] in and then had Bobby Zamora sent off. So it's been a bit of a disaster in that respect."
Asked if he had any regrets about accepting the position at Loftus Road, the 66-year-old former Tottenham boss said: "None whatsoever. It's just unfortunate.
"If we'd got smashed every week I'd be the first to hold my hands up. It shouldn't be hard to keep the players motivated for the final four games. I'm motivated. I left home at six o'clock this morning.
"The players have got to keep playing to get paid. If they're not motivated then they can come back pre-season and we'll start paying them then."
Remy joined QPR from Marseille for a club-record fee of £8m during the January transfer window and scored five goals in his first eight matches.
"Remy is a player I feel could score 20 goals a season in a full Premier League season," Redknapp added. "We'll have to sit down with him and see what his plans are. We'd like to keep him obviously.
"We've got to come up with a couple of right players with the good players we already have. The ones we want to keep - I'm sure we'll keep them.
"The silly thing about this game is quite often the ones you want to keep are the ones who want to go and the ones you'd like to let go they don't want to go."
Joey Barton is on loan in France with Marseille and Redknapp said: "I think Joey has got a nice lifestyle there. So I'd be surprised really if he wanted to come back.
"I'm not saying I don't want Joey back. He belongs to the club. If he has to come back he has to come back. I don't know what the deal is there.
"I get the feeling Joey wants to stay there. He can play. If there's no deal done then he'll come back here and get on with it."