Premier League: Anthony Fry appointed chairman
Last updated on .From the section Football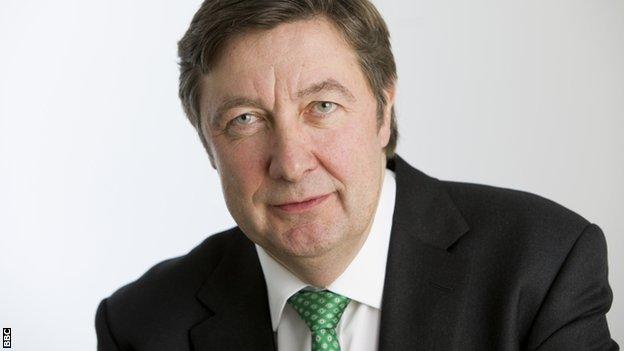 Corporate financier Anthony Fry is to take over as chairman of the Premier League in June.
The 57-year-old will succeed Sir Dave Richards, who is stepping down from the position he has held since April 1999.
Fry will now relinquish his role as BBC Trust finance committee chairman.
Chelsea chairman Bruce Buck said Fry had the "correct blend of experience, skills, attitude and demeanour to represent the best interests of the Premier League".
Chairmen of the Premier League's 20 clubs endorsed Fry's appointment at a meeting on Friday. Buck, along with Stoke's Peter Coates, Manchester United's David Gill and former Blackburn chairman John Williams, led the recruitment process.
Fry was described by the Premier League as a "keen spectator" at matches involving champions Manchester United.
His appointment means that three of the key people who help run English football are fans of the Red Devils.
The others are Greg Dyke, who takes over as Football Association chairman this summer, and FA vice-chairman Gill, who hopes to join Uefa's executive committee.
Fry has spent most of his career as a corporate finance advisor after graduating with first-class honours from Magdalen College, Oxford.
He is chairman of dairy group Dairy Crest and a senior advisor to the board of investment bank Espirito Santo.
In addition, he has held non-executive positions on public, charitable and academic bodies, such as the BBC and the English National Opera.
Buck added: "Anthony's CV speaks for itself, but we were particularly impressed by his aptitude for and understanding of the role, as well as believing his style to be particularly well-suited to developing effective working relationships with both the member clubs and the executive of the Premier League."
Fry praised the achievements of the Premier League, and added: "I am looking forward immensely to helping the clubs and the executive improve on what is already an incredibly successful competition and business."