MK Dons boss Karl Robinson apologises to Stevenage chairman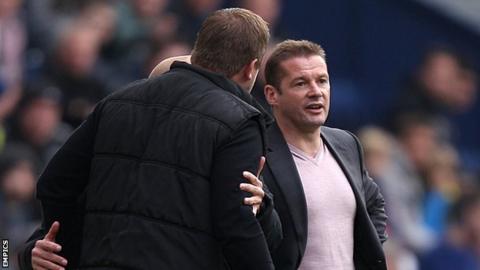 MK Dons boss Karl Robinson has apologised to the Stevenage board for branding them a "shambles".
Robinson, 32, had been reacting to Boro chairman Phil Wallace's decision to sack Gary Smith as boss in March - a move he called "embarrassing".
"I have got an apology to make to Phil Wallace. I didn't talk about the club, I mentioned the board," he told BBC Three Counties Radio.
"Which is completely disrespectful by me and silly as well."
He added: "Gary Smith is a good friend of mine, somebody I respect a lot, and it was very raw. I think we did the interview the day after he had moved on."
The two sides meet in Saturday's season finale, with Graham Westley in the Stevenage dugout after he returned to for a third spell at Broadhall Way.
Speaking on Thursday former Preston boss Westley, 45, said: "I don't care what Karl or anybody else said. He's probably more embarrassed than anyone else, but he's a young manager and he'll learn given time.
"Everybody makes mistakes and I'm sure he's learned his lesson from the mistake he made. It's silly to get involved with what other clubs are doing.
"To talk about a board of directors in the way he did was disrespectful, but I'm sure it's not the type of mistake he will make again."
Robinson, a former coach at Liverpool and Blackburn, responded on Friday.
"As for what Graham is saying about my experience - I've worked in the Premier League and with a lot of good people who have guided me," he said.
"Football is a constant learning curve, just like Graham may have learned when he failed at Preston and went back to Stevenage - that's the biggest learning curve for any of us.
"I've made a big mistake. I said something silly regarding the board. But I have tremendous respect for the Stevenage fans."