Dundee aim for permanent Brown 'bounce'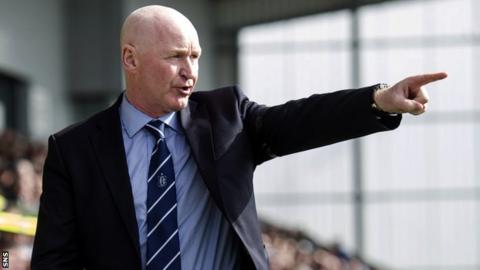 When John Brown was appointed interim manager of Dundee in February, the Scottish footballing world was taken aback at the leftfield nature of the appointment.
Anyone else now being given the job on a permanent basis would have been almost equally breathtaking, which is testament to the job done in the intervening weeks.
Dundee were all but relegated from the Scottish Premier League when he took over - 15 points adrift and without a league victory in 13 matches.
They're still stick-on favourites to go down, but three wins, three draws and just one defeat mean the issue, somewhat incredibly, is still a live one with four games to go.
Even the most ardent Dundee supporters are unlikely to hold out much hope their club can claw back 10 points on St Mirren in the final weeks of the season.
Realistically, because of their drastically inferior goal difference, they would need to win their final four games and hope Danny Lennon's side lose all of theirs.
It's not beyond the realms of possibility, though, and another illustration of the largely unexpected positive impact Brown has effected during his time at the Dens Park helm.
He made an impassioned defence of his credentials as recently as Wednesday on BBC Radio Scotland's Sportsound programme, following heavy criticism and widespread disbelief that a man whose only previous managerial experience had resulted in Clyde being relegated to the Second Division was being given such responsibility.
Brown cited the swingeing cuts made at Clyde during his tenure as mitigating circumstances and also pointed to his experience as a coach of youth teams and reserves at Rangers as good reasons for the Dundee board giving him the opportunity.
Dundee chief executive Scot Gardiner took pelters in the media and on fans' messageboards for the manner in which Brown's predecessor Barry Smith was dispatched and, with equal venom, for the decision to bring in a man widely perceived as a failure.
Brown had done his public persona no favours either with the manner in which he decried Charles Green as he seized power at Rangers last summer, though Brown now believes he is being vindicated by recent allegations levelled at the now former Ibrox chief executive.
That remains to be seen, but the Dundee board have certainly been vindicated, regardless of whether they complete a great escape.
Is that the result of a phenomenal bit of talent-spotting on their part, when the vast majority of Scottish football thought they had displayed a gross act of folly, or some monumental good fortune?
Given the scepticism displayed at the time and Scot Gardiner's fierce defence of the appointment, credit must be given, at least for the short-term "bounce" the club has had since Brown's arrival.
In the longer term, clearly the challenge for Brown will be to sustain the positive impact he's made, most likely in the First Division, where Dundee will be expected to be serious challengers for an immediate return to the SPL.
But, assuming they do go down, he will certainly have to deal with budget cuts - though perhaps not as grievous as the ones at Clyde - and a truer picture of his managerial acumen can then be drawn.
For the moment, though, Brown can content himself with the knowledge he has proved many of his doubters wrong.