Cardiff owner Tan will stay with club says Malky Mackay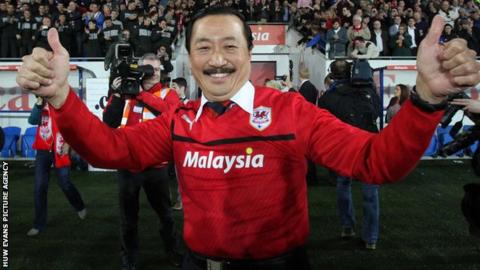 Manager Malky Mackay has dismissed suggestions owner Vincent Tan is ready to sell Cardiff City.
The Welsh club will be in the Premier League for the first time next season after winning the Championship title.
City's millionaire owner Tan was quoted in the Malaysia press as saying he would consider offers for the club.
However Mackay said: "In an interview, he was asked what his plans for the football club were and he said he wants to be here long-term."
Mackay acknowledged someone coming in with a "crazy offer" might have an impact, but dismissed the implication Tan was thinking of selling.
Cardiff were promoted after their 0-0 draw with Charlton Athletic on 16 April amid emotional scenes at the Cardiff City stadium.
The Welsh side, who have been mired in financial problems in recent seasons, went on to win the Championship title by securing a point at Burnley and will return to the top flight after a 51-year absence.
On Saturday they host Bolton with Tan having invited former owner Sam Hammam to be among his guests - a gesture announced on the club's social media.
Tan has already stated he is willing to offer Bluebirds manager Mackay a £25m transfer war chest to buy players for the first season in the Premier League.
The owner controversially announced the club's rebrand from blue to red in June 2012, but pledged to invest in Mackay's squad, plus a new training facility and announced plans to expand the capacity of their stadium.
That investment in the playing side helped Mackay to secure promotion in his second season in charge, while the manager has also welcomed the plans to extend the Cardiff City Stadium from a 26,828-seater to 35,000 seats for the 2014/15 season.
"For the infrastructure of the football club, it is really good news," said Mackay.
"It was talked about when we changed colour at the start of the season about investing in the team, which he did, and investing in the stadium and a new training ground."
Tan has already invested about £40m since he began his association with the club in November 2009.