Premier League: New chairman Anthony Fry is a safe pair of hands

By David Bond
BBC sports editor
Last updated on .From the section Football51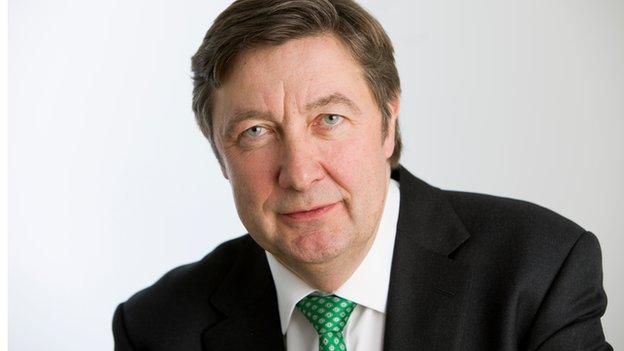 The Premier League's new chairman Anthony Fry is a Manchester United fan with a passion for Sussex County Cricket Club and a reputation in business circles as a big hitter.
He is chairman of Dairy Crest and head of the BBC Trust's Finance Committee, a position he will give up when he takes over from Sir Dave Richards and starts his three-year term in June.
While he has held numerous directorships with a variety of companies, his background is essentially in banking and finance. The 57-year-old spent 18 years with investment bank Rothschild and he is currently an adviser to the board of Banco Espirito Santo. He also has close connections to the Treasury and senior figures in Government.
It is that depth and breadth of experience which convinced the League's appointments committee, headed by the Chelsea chairman Bruce Buck, to go for Fry ahead of other leading candidates such as London 2012 vice chairman Sir Keith Mills and former Barclaycard chairman Gary Hoffman.
His financial experience will be seen as a great asset at a time when the league's 20 clubs are about to receive a 70% increase in domestic television and media revenue.
How that new money is spent and managed will be one of Fry's most important challenges, particularly with a handful of clubs unhappy about the introduction of new Financial Fair Play rules limiting players' wages and annual losses.
Fans will no doubt focus on his Manchester United affiliations - especially at a time when the Football Association has just appointed Greg Dyke - also a United fan - as their chairman.
With former Manchester United chief executive David Gill expected to become English football's representative on Uefa's executive committee in the summer, some may be suspicious of an Old Trafford carve up at the top of the English game.
Of far greater significance is Fry's relationship with the league's chief executive, Richard Scudamore. For the last 14 years he has been the driving force behind the league's expansion and success and he is unlikely to relinquish his role as the competition's mouthpiece and figurehead.
But, judging by Fry's own personal website, he is clearly not shy of publicity or short of an opinion. Despite delivering a stream of lucrative TV deals over the last decade or so, there is a small constituency of clubs who would like to check Scudamore's power.
Fry is the sort of person with the credibility and CV to do that, although I find it hard to believe Scudamore has not been centrally involved in his appointment. In fact, a few of the clubs are already grumbling about the way his recruitment has been handled, arguing they were not given proper time to debate the decision.
Scudamore will want Fry to be the quiet diplomat, working away behind the scenes to diffuse rows like that, leaving the executive free to keep driving the league forward. Whether that is how Fry sees it is another matter.
What we do know is that he is likely to offer a far safer pair of hands than Sir Dave Richards. While the former Sheffield Wednesday chairman was well liked by the club chairmen, he had a habit of putting his foot in it - quite literally when he was filmed falling into a fountain at a hotel in Doha last year.
While embarrassing, it was his public comments and political networking which often caused the greater damage for the league and for English football. At the same conference at which he got a soaking, he accused Uefa and Fifa of stealing the game from the English. He also told the 2022 World Cup hosts Qatar not to "bury their heads in the sand" over the country's alcohol ban.
Fry's CV suggests he won't make gaffes like that.
But he will need a deft touch to steer English football through the next phase of its development.
The new influx of TV money creates as many problems as it solves and both fans and the Government will be looking to the league to set a different tone of leadership.