Luis Suarez: Liverpool striker accepts biting ban
Last updated on .From the section Football886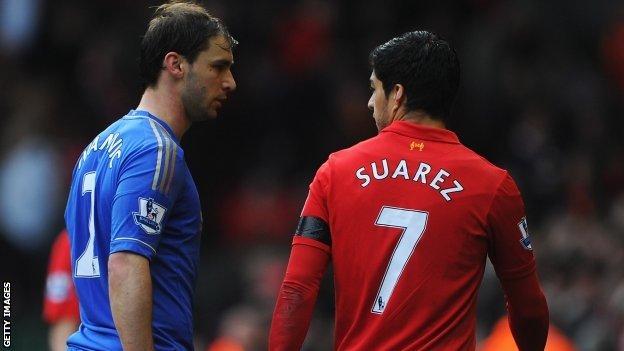 Liverpool's Luis Suarez says he hopes to be forgiven by those he has upset after accepting a 10-match ban for
"I am truly very sorry. I hope that all the people who I have offended at Anfield last Sunday will grant me forgiveness," the striker tweeted.
Suarez added that, although his ban was greater than those in incidents where players had been badly injured, an appeal may "give the wrong impression".
Suarez's ban begins immediately.
The 26-year-old striker will miss Liverpool's final Premier League games of this season - against Newcastle, Everton, Fulham and QPR - and the first six domestic matches of the 2013-14 campaign.
Suarez had already accepted a three-match suspension for violent conduct, but could have challenged the additional seven-game punishment . Contesting his ban however would have run the risk of Suarez's suspension being increased.
"I know that all the things that are happening to me in England will help me to improve my conduct on the field," added Suarez.
"Right now, I just want to focus on becoming a better footballer on and off the field.
"Many things have been said and written about me, I just tried to do my best on the field. I hope to come back early to play."
Liverpool allowed Suarez to decide whether to appeal, although
Rodgers had cited incidents involving Jermain Defoe, who was booked for biting Javier Mascherano in 2006, and Chester defender Sean Hessey, who was banned for five matches in the same year, in support of Suarez.
Managing director Ian Ayre reiterated Liverpool's disappointment with their striker's punishment "and in particular the differing standards that have been applied across various previous incidents".
Rogers added that Liverpool "had to move on" and that the club looked forward to "welcoming a better person and player when he returns."
Suarez was banned for seven games in November 2010 when playing for Dutch side Ajax for a similar incident in which he bit PSV Eindhoven midfielder Otman Bakkal's shoulder during a match.
Earlier in April, Fifa announced an investigation into an incident in which Suarez appeared to punch Chile defender Gonazalo Jara during an international match on 26 March.
Arsenal manager Arsene Wenger believes that Suarez's previous indiscipline, which also includes an eight-match ban in December 2011 for racially abusing Manchester United defender Patrice Evra, has been taken into account by the Football Association's independent panel.
"What has gone completely against Suarez is his history," he said.
"That is very heavy on the offence front and that is why he has been punished so severely. That is the only explanation I can find."
The Uruguay international, who apologised to Ivanovic for his "inexcusable behaviour" in the 2-2 Premier League draw, has been criticised by Prime Minister David Cameron for setting "the most appalling example to young people in our country".
QPR boss Harry Redknapp agreed with Rodgers that Mr Cameron's comments, along with deputy Prime Minister Nick Clegg's subsequent endorsement of Suarez's 10-match ban, did not help Suarez's case.
"Once politicians have opinions, you could see he was going to be hammered," said Redknapp.
Suarez's suspension, along with a shoulder injury to Italian Fabio Borini, increases Liverpool's reliance on Daniel Sturridge, who has scored six goals in 12 games since signing from Chelsea in January.
Rodgers has insisted that Suarez is "still very much part of our family and very much part of our future" despite speculation that the ban may prompt him to seek a move abroad.