Appiah wants Ghana stars back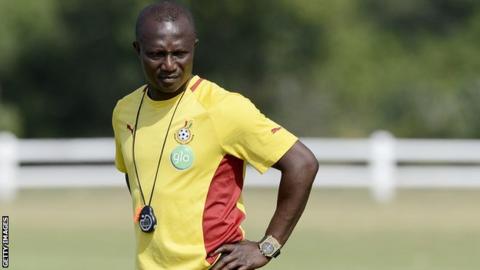 Ghana coach Kwesi Appiah remains hopeful he can persuade brothers Andre and Jordan Ayew to end their self-imposed international exile.
Andre, 23, and 21-year-old Jordan announced in February they had quit the Black Stars after they were left out of the Africa Cup of Nations squad.
He also wants Michael Essien and Kevin-Prince Boateng to return for Ghana.
Real Madrid's Essien asked not to be considered for the Nations Cup, while AC Milan's Boateng quit Ghana in 2011.
The Ayew's , who both play for Marseille and are the sons of Ghana legend Abedi 'Pele' Ayew, wrote separate letters to the Ghana Football Association (GFA) to inform the body of their resignations.
The GFA wrote back, asking the brothers to reconsider but the plea was rejected.
However, Appiah has told BBC Sport that he is in contact with midfielder Jordan and striker Andre and is still keen for them to return to the squad.
"They are two great players and every national coach would want to have them around," said Appiah.
"It is important that every good Ghanaian player comes on board to help the nation.
"It is unfortunate that they have written to us to say they want to step back. After they wrote to us, we wrote back and said we didn't accept their decision - we sill need them.
"We said we would give them time and we are still talking and we hope they will come back to help."
Ghana will play a 2014 World Cup qualifier away to Sudan in June and Appiah's side must win to keep the pressure on Zambia, who are a point above them at the top of Group D.
Appiah knows the return of the Ayew brothers would be a massive boost for the Back Stars as they aim to reach next year's tournament in Brazil.
And he has not given up hope in persuading Essien and Boateng to play for the Black Stars again.
"I would love to have every good player available and Boateng and Essien are both fantastic players," said Appiah.
"We are still talking to them to get them to join the team."
Meanwhile, Appiah said he had gained a lot from his week spent exchanging knowledge and ideas with English Premier League side Manchester City.
"I think it has been very useful," he said. "I have learnt a lot, not only tactically but about what the physio does and also the psychologist and the other departments around the team.
"I have had an opportunity to speak to David Platt, Brian Kidd and manager Roberto Mancini as well. There are some things the manager has told me about how he sees the game - and he has been very helpful."