Aldershot Town aim to avoid administration after fan meeting
Last updated on .From the section Football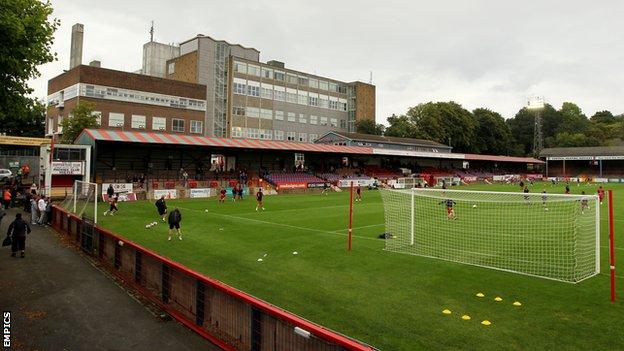 Aldershot Town chairman Shahid Azeem says the club faces a crucial 48 hours as they look to avoid going into administration.
Azeem, Shots owner Kris Machala and directors of the League Two club held a meeting with fans on Thursday.
Azeem said "a huge step" had been made in talks about their finances.
Machala confirmed that talks with a potential new investor for the EBB Stadium outfit had collapsed after a deadline passed on Thursday afternoon.
Thursday night's meeting had been called by Graham Brookland, the president of the Shots Supporters' Trust and also the club's head of media, to air his concerns over the way Aldershot are being managed and the direction they have taken in recent months.
Also in attendance were 24 prominent and long-standing supporters of the club, including founder Terry Owens and all-time leading goalscorer Mark Butler.
Brookland described this season, which sees the Shots on the brink of relegation from the Football League, as "the worst in the club's history".
Following the meeting BBC Surrey reports that:
Putting the club into administration had been a serious option to solve the club's "dire" situation, but there are now two possible scenarios, currently in negotiation, which would stave off that threat of administration.

A positive outcome to one of these scenarios is expected within 48 hours. Chairman Shahid Azeem said that the next 48 hours are crucial but that "a huge step" in negotiations had been made on Thursday night.

The investor mentioned by majority shareholder Kris Machala at last week's AGM will not be investing in the club. Negotiations ended after a deadline passed at 16:00 BST on Thursday afternoon.

Chief executive Andrew Mills

is confident that, after over-reaching itself with some naive budgeting this season, the club can rebuild its finances. He is currently working on a budget which will ensure that the club can break even next season, even if the team are relegated.

Azeem admitted that he was embarrassed by the situation the club finds itself in, and that the directors "took their eye off the ball" in allowing debts to accrue, but stated that he could not allow the club to go into administration.

Director Tony Knights admitted that the club had been "haemorrhaging money" but there was "no doubt that the board of directors will put it right".
Majority shareholder Machala was replaced as chairman by Azeem in February.